FedsGTO (Federico Maranges)
Jump to navigation
Jump to search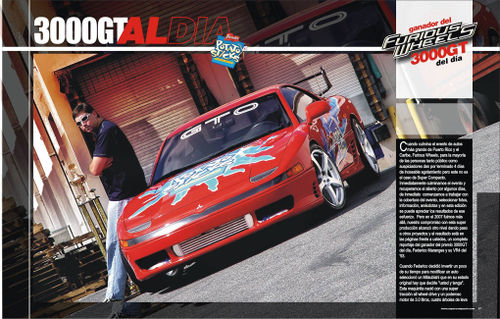 Ride of the Month Submission 3000GT/Stealth International December 2007
Performance
Pit Road M titanium Exhaust, Stillen Racing Downpipe, Random CAT, Greddy Blow off valve, Greddy Profec Boost controller, ARC 2 with Big Mass, Magnecor Racing Wires, Mitsubishi 2nd Generation Larger Rear Calipers (Front pending installation), IRI Slotted/Drilled Rotors (Front/Rear), Porterfield Brake Pads, Intrax Springs, Gewalt 19"/ 9 F, 19"/10R with Yokohama Tires, Cusco Rear Strut tower, Turbonetics Stage 2 Turbo Upgrages (15G's), Greddy Front Mount Intercooler and pipes, DN-Exhaust Manifold, Auto Meter Pod with 2 Gauges (Boost, EGT), 550CC Injectors, Supra Fuel Pump, RPS Clutch/Fidanza Flywheel
Interior
Leather seat cover protectors, GTO Aluminum Racing Pedals
Audio
XM Roady Satellite Radio, Infinity Bass Link Amplified Subwoofer, Sony Xplod Speakers (Front/Rear), Kenwood Amplifier
Exterior
Carbon Fiber Combat Spoiler, GTO Rear Tail Light
Other Modifications
GTO Spark Plug Cover
Future Modifications
To many to reach +700WHP...

Story:
Owner: Federico Maranges (Furious GTO)
Member: FedsGTO
Member number:
Year: 1993
Mileage: 32,000 original miles!
I saw this car in 1995 at a local dealer and it was instant attraction! Specially after the test drive I knew I had to get the car. It had about 14K miles on it and was in mint conditions.
It was not until Nov 97 that I found on a Magazine about GT Pro's proyect with a 3000GT. Immediately, I started researching about performance upgrades for the car. With dial up connections and week internet service I joined 3SI and from there on it has been my goal to slowly upgrade my car despite all local tuners kept telling me about the lack of parts for our cars. Although they were right I was not going to quit!!
It was when I met a local 3SI member which end up being a close neighbor that I never met! This is Miguel "Boricua-PR" Paulino... Way ahead in the modifications of his 3000GT showed me one day what the car was capable off with only 15G's back then!
That was it! Relatives of my wife as well as Miguel convinced me to start making a few upgrades... My car started with it's tranformation to what it is today. Close to 550HP to the motor and just 32K miles!
About five years ago I was relocated from Puerto Rico to Connecticut and there went my GTO with me. During my close to three years in CT I had the opportunity of participating of ECG in 2004 and 2005! Also, participated on a NY Gathering where the car received a "Best Paint Job!" Award! I guess for the perfect condition of the factory paint.
In 2006 I was transferred back to PR, again my car was shipped to the island. The most active year of all with the car since got sponsored by French Potato Sticks to participate of Hot Import Night where my friend Miguel and myself received 2nd and 1st place for our 3000GT category. Great weekend!
On top of that, the car was featured on newspaper ads sponsoring Hot Import Nights and next month will be on 2 local car magazines...
Now need to start saving for future list of mods that will take the car to another level. The goal is to make this car a +700WHP beast!