Fbc 978 (David Broomfield)
Jump to navigation
Jump to search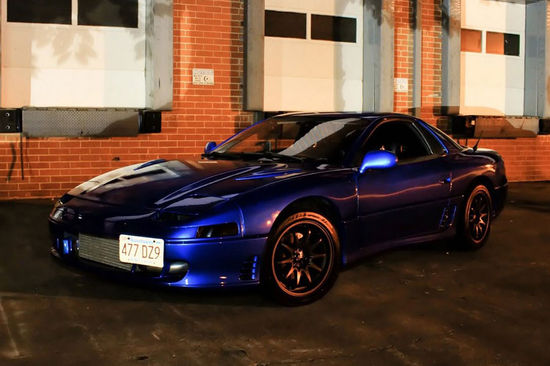 My story:
Beaten, tattered, and abused are just a few of the words that went through my head as I checked out a Vr4 locally for sale in June of 2008. The thing looked like it had been through a washing machine full of curdled cheese. Nothing on the car said, "BUY ME!" other than the low 76k miles but I could see through the chipped paint, torn up interior, broken windshield, and flat tires to see the end product of what I wanted to have. Thus began a project that would eat money like a fat kid eats cake. That summer I torn the car down and began the restoration.
I knew I was not going to be done before winter so I decided painted the outside of the car would be done in the spring. I pulled the motor and EVERYTHING out of the engine bay in order to paint the bay. The motor was freshly rebuild by the previous owner and has proved to run very strong as you will find out. After painting the bay and freshening up everything around it I bought a set of IPS 19t L's. I had enough of 9b's from my previous fwd-tt. FastFalcon, who lives in Vermont, was parting out his 94 vr4 which had a mint interior. I snatched up the seats and a few other pieces to bring my car back to a nice stock interior. So at this point I had a 19t car with supporting mods, a nice interior, a beautiful blue engine bay, and possibly one the worst looking sleepers in the New England area. After swapping to AEM EMS I went to the track in the spring and put down a 11.59 @ 120mph on pump+meth, while still looking like something out of a horror movie. As seen in the video, http://www.youtube.com/watch?v=alwC3o9WRyI . I probably got the most comments on my car when it looked like this.
After breaking my factory transfer case even with a bracket I made myself a billet 2024-t351 aluminum front housing to hold the power. Through John Monnin's solidworks drawings I made my first prototype which was thoroughly criticized which I took as advice in order to design a better front case which I have not made yet. Even though after 100+ 11 second passes with low 1.7 60fts the original is still holding strong. This winter I will be switching to a 7075 aluminum with minor design changes as well.
In May of 09 I painted the exterior the same color as the bay and ruined my reputation as a sleeper L. I also tore apart the interior again in order to add an 8 point roll cage. Lawdogg(Ryan) and I attended NG09 driving nearly 4000 miles round trip to Memphis, TN. The car performed flawlessly as I won my first autocross event. I also did drags at NG but due to my terrible 2nd gear I only ran low 12's. It was an awesome trip though and I will most certainly be at NG10.
From NG09 to now not much has changed except my future plans for the car. I ended up doing 11.574 @ 123mph on pump+meth but was never able to get a great launch on the autocross street tires. I picked up a 4 bolt block and am currently building a forged 3L combined with a td05 setup, Hoosiers, and a beefy fuel setup to try to get deep into the 10's this spring.
David Broomfield