East Coast Gathering (ECG)
Jump to navigation
Jump to search
The East Coast Gathering, as it is now called, was originally named the Dodge Stealth and Mitsubishi 3000GT Gathering, since it was the first and at the time, the only recognized Gathering of 3/S cars and their respective owners. It was a direct result of the old dragnet mailserv list, and its members. Later supplanted by the starnet mailing list, the 3si web forums have largely taken over the function and purpose of the old ascii-only list server.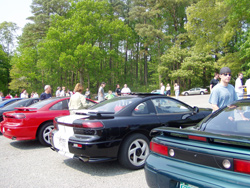 It started in 1995 with four cars, and was never deliberately intended to be an event, let alone evolve into a yearly pilgrimage for legions of 3/S owners and friends. Pictures of the four proud owners posing by their cars in Ocean City, Maryland, were posted on the mailing list's related website. Immediately the e-mails started flying, asking when the next "Gathering" would be, and expressing great enthusiasm for the chance to meet up with other owners, even if it meant driving many hours.
The overwhelming response led to the Second Stealth & 3000GT Gathering, and featured nine cars, including Santo Nucifora, who amazingly drove all the way from Canada for the chance to spend a day with equally devoted owners of these cars.
The Third Annual Dodge Stealth and Mitsubishi 3000GT Gathering, as it was now accepted to be an annual "tradition", was expanded by necessity into a weekend long event, held in the spring. Now at 33 cars, plus drivers and their guests, it had really taken off, and it was rolling. Other "Gatherings" around the country, and soon, around the world, started to be mentioned on the mailing list, as owners from the other sides of the country began getting together in a similar fashion. This spawned more photos of yet more owners and their cars, at their own regional "Gathering", and subsequently inspired spinoffs such as the National Gathering in Michigan, the Blue Ridge Gathering in North Carolina, and the Quickening in Cape Cod. The Third Gathering was the first time the group was large enough to warrant reserving a private room for what continues as a longstanding tradition, the Saturday night awards banquet at Embers.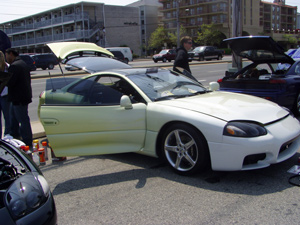 By the Fourth Ocean City Dodge Stealth and Mitsubishi 3000GT Gathering in 1998, which had approximately 65 cars, it was clear that it had grown too big for one person to organize and orchestrate it anymore. Fortunately Eric Bowden, owner of the 222hp Stereo, offered to take over the logistics and organization of the event, and his extroverted style suited the atmosphere. His amazing '92 Stealth R/T has been completely refitted for an over-the-top custom stereo, and fabricated the famous, never to be duplicated, cup holders integrated into the lower door panel.
--93RTTurbo 22:42, 14 April 2006 (EDT)