Deathsled (Stephen Yarbrough)
Jump to navigation
Jump to search
1996 Mitsubishi 3000GT VR4 (Deathsled)
[
edit
]
3SI Member #2330
Body:
99 front end conversion
Bomex side skirts
Bomex rear wing
Suspension and Wheels:
Intrax lowering springs
Rear control arms by Jerggy
Cusco adj. rear strut tower bar
Slotted rotors and Stillen pads
17x9 5Zigen FN01R-C wheels in hyper black
beat out 245/45/17 Kuhmo Ecstas
Electronics:
Autometer Boost and A/F meter
Digital Tuning OBDII Pocket Logger
Interior:
Black and tan interior made from stock pieces
GReddy counterweighted shift knob
Engine:
Stock NA shortblock with 10:1 compression
TT heads and cams
Fidanza adj. cam gears on exhaust cams set to -3
MHI 13G turbos
DrWeldin's DSM side mount intercoolers
Desperado's custom braided oil return lines
Gutted cats
Stillen downpipe
HKS Super Drager Exhaust
Stock MAS with K&N FIPK
HKS SSQV BOV
390cc injectors
AEM adj. fuel pressure regulator with robbeck FPR adapter
E2kmfg fuel rail loop and fuel gauge adapter
possibly some HKS fuel pump or so the legend goes
3SX 2 inch single pass aluminum radiator
3SX EGR blockoffs
Drivetrain:
RPS stage 3 pressure plate with ACT modified street disc
SFR LSD insert for 6speed Getrag
Fidanza flywheel
Maximal Performance solid front and rear motor mounts
JDM final drive or "MR" gears as some like to say
Audio:
some blaupunkt head unit with some blown out speakers

My Story (August 2008)
After having owned the original deathsled for some time the hankering came for some boost. My mother actually had purchased a pearl yellow 94 VR4 that I was extremely jealous of. Eventually I got tired of waiting for her to give it up so I set out for my own. My VR4 was originally from Georgia and was owned by an old school 3si member Hulk67(?). I actually saw this car get in an accident during what can only be described as an illegal street race a few years before it came into my possession. The car came to rest eventually in NC where I purchased it from 3SX. I drove it for a year with its previous set of mods until for some reason or another the engine gave out. For the past 3 years the car has slept in my garage as I slowly but surely replaced or modified almost every mechanical part of it. Only now has it awoken and come down off the jack stands, solely for the purpose of winning August 2008 ROTM and subsequently ROTY ;)
-deathsled
1992 Dodge Stealth Base (Original Deathsled)
[
edit
]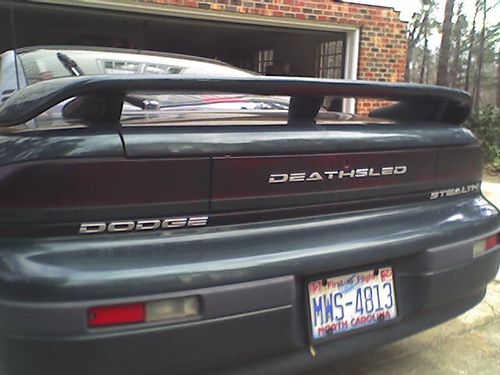 My Story (January 2006)
The deathsled and I were joined in the spring of '99. For years its SOHC motor has been like a best friend, enduring even the most punishing treatment from me with a willingness to forgive. Its modifications are few but tasteful. KYB shocks and Ground Control coilovers give the car a much more aggressive stance and increase road handling tremendously. The engine is outfitted with a K&N filter, Fidanza Flywheel, and Crane spark plug wires. The interior is treated to tan door panels from a 96 VR-4, custom brushed steel look plastic pieces, and green interior lights. The deathsled's external visual modifications are subtle. A 3000GT style spoiler adorns the back end along with the coveted "deathsled" emblem which has become near legend. The front end is topped off with the signature green snake eyes.