Dave Best
Jump to navigation
Jump to search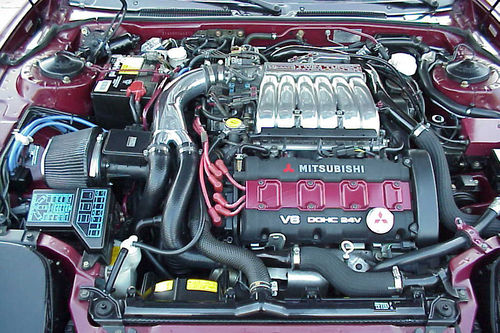 3SI Member #62
92 3000GT VR4 with 82K, purchased new in Aug 92 for $32.058.00.
Suspension:
Brakes:
Drilled vented rotors (powerstops)
911 Metallic pads
Exhaust:
Borla Cat back from SF Motorsports in NC, (336) 996-4080
Engine:
K&N F.I.P.K. from Alamo Motorsports http://www.alamomotorsports.com/
Megnacor Wires (Nexus when they were in business)
Polished Y- pipe from GT Alley now GT Pro [email protected]
HKS EVC-4 from Frank [email protected] at Accelerated Accessories
Champion "Gold" Spark Plugs, from Pep Boys, I don't know if they are still available but that is where I found them
I polished the Plenum and powder coated it, first with Maroon and then with gloss clear. I used an IR air Die Grinder (Harbor Freight) and the polishing compound (Eastwood Company) to bring it to a good shine and then shot Maroon powder, polished off the Maroon and then shot clear gloss, so I would not have to polish it again. Shooting the gloss on I did lose some of the shine but again it reduces the maintenance.
The Bra is a factory Mitsubishi Bra I purchased in 92, and it is getting a little frayed at the edges now and Ill be replacing with a new Bra from West Broad Mitsu (1-800-229-1001) soon.
I changed all the fluids over to Mobil 1 at 1000 miles. The only things that I have had go bad has been the reverse light switch ($4.95) and the driver side window assembly ($160.00), both from West Broad Mitsu. Other than that I have had no problems with the transfer case, trans or clutch. Great car sorry to see Mitsubishi is not going to import them any more.
My future mods, DP either an ATR or an ATM (Bell Engineering) and a hi-flow cat, from GT Pro. Intercoolers either the HKS's with IC piping or the new single intercooler both GT Pro and Altered Atmosphere are working on. A BOV and MAS more than likely from GT Pro, then for it's 100K birthday I am planning on 560 cc injectors, fuel system upgrade and a set 15G's. Since they aren't making new ones might as well fix mine up. Hope everyone enjoys see my car maybe once everything is done it will be the Maroon Marauder"? Still don't think I'll be able to run with the Beast, but as long as I have fun, that's all that matter.
Dave Best 3Si #62