DaveSlow (Dave Lo)
Jump to navigation
Jump to search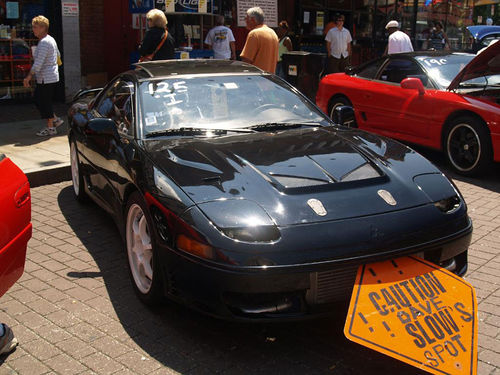 Body:
Bozz Speed Carbon Fiber hood
2g rear bumper
Front bumper cut for higher airflow
JDM tail lights
Suspension and Wheels:
Megan racing coilovers
White Black 18x9 Racing Pro-N1
Falken Azenis 255/40/18
Carbotech XP-8s
Electronics:
Sard Trigger boost controller
E-Manage Blue
PLX iMFD with oil pressure and oil in/out temperature
Interior:
Sparco Speed Seat
Corbeau 4 point harness
Engine:
Wrx 13T conversion (Td05 GT30 Hybrids very soon)
Evo 560cc injectors
Custom exhaust with Ti muffler
Pit Road M dual inlet front mount intercooler
2" Radiator
B&M 11"x11"x1.5" oil cooler
Spoon 165* Thermostat
TRD Radiator cap
Walbro fuel pump
Cruise control delete
A/C delete
Various useless vacuum hoses deleted

My Story:
Back in highschool I used to think that there was never a need for a fast car as long as it looked good. I was always in belief that there was no need to go 100 on a public road. The first time I got a ride in a turbo supra all of that went out the window. I immediately began looking to see what turbo cars were out in the market. I came across the 3000GT and became fixated on buying one. I ended up find a great condition 1993 3000GT-VR4 with 62k on the clock. After I bought it I made another dumb statement: "This thing is fast enough, I won't need to mod it". I was wrong again and that's why the car is the way it is today and will continue to get faster. After a few years of daily driving the vehicle I discovered road racing and decided that it should no longer serve as a daily driver. The last picture is what a tire wall thought of my car at Road America while chasing down a mustang.