Chris GTO TT (Chris Craig)
Jump to navigation
Jump to search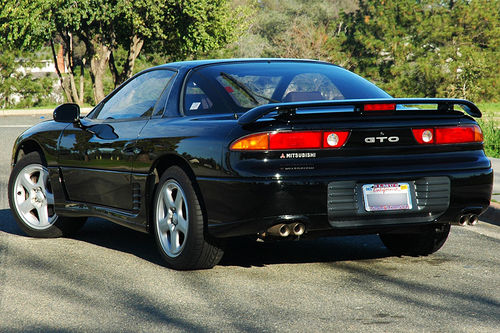 Ride of the Month Submission 3000GT/Stealth International May 2007
3SI Member #1933
Body:
2nd Gen Center Garnish with JDM GTO Badge
JDM Tail lights
2nd Gen Rear Mitsu logo
GTO Logo on the front fenders.
Zymol HD cleanse with Zymol Japon wax
Suspension and Wheels:
Stock springs and ECS shocks
Stock wheels
Bridgestone Potenza RE750 tires
EBC Green Stuff Brake Pads
Electronics:
Blitz DSBC spec-R Boost Controller
Interior:
Original two tone red and black interior
Mobo Leathers red and black shift boot
Seattle Short throw shifter.
Engine:
Audio:
Alpine CDA-9815 CD/MP3/WMA Player
Alpine 6.5" speakers in the doors
Alpine 6x9" rear speakers
My Website:

My story:
I bought my VR4 from the brother of the original owner who walked in and bought it from Anaheim Mitsubishi on Dec 26 1990. He specifically wanted a VR4 with out leather hence the rare cloth seats in my VR4. When I picked up the car in Feburary of 2002 it had 59,000 original miles on the car and since have put on 10,000 miles. The modifications are simple and to the point. To set the car apart visually I decided to go with a modified 2nd Gen GTO appearance. Most of the parts came from the members here at 3si. For Waxing I use Zymol's HD cleanse which is by far the best paint cleaner I have ever used. Before I used it I thought my car had a nice deep black shine to it, but after completing the first wax with the Zymol the car got an amazing deep black shine that made the previous wax look gray. My car has been waxed at least 3-5 times a year and has always been garaged.
Once I decided to limit the mods to my car I wanted to find another way to give back to 3si so I decided to accept an offer to become a moderator here, as such 3si has been a major part of my life for the last several years. I was at NG04 where I met a lot of wonderful people who only want to share their passion for 3000GT's and Stealth's. I am planning on being at this years National Gathering.
Oh yeah May is my birthday month so you have to vote for me:D

-Chris Craig