Chester22 (Chester Sackowski)
Jump to navigation
Jump to search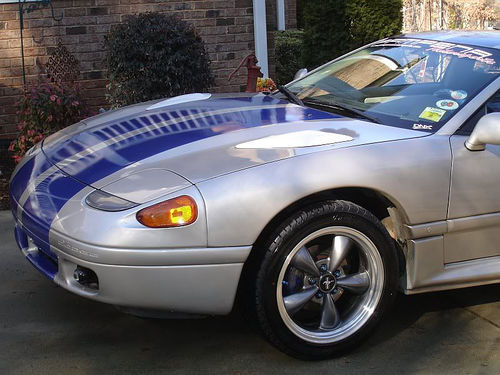 Ride of the Month Submission 3000GT/Stealth International April 2009
Modifications
Custom BuckWheat Beige and Viper GTS Blue Paint Job Done by Father and Me
Custom 1 Off Exhaust Done by Father
Mustang Bullit Wheels
1992 3000GT Rear Bumper and Spoiler
1995 3000GT interior
3SX Performance Downpipe
3SX Performance Spark Plug Plate
K&N FIPK
DN Performance Intake
1999 3000GT Rear Garnish
1999 3000GT Tail lights
Snake Eyes
NGK Iridium Plugs
Custom Painted Calipers
PowderCoated Valve Cover
Now has over 200k miles on stock motor and trans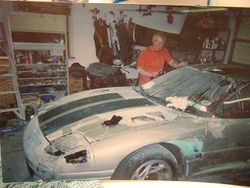 My Story
Chester S.
3SI Member Chester22
1992 Dodge Stealth ES
Mooresville, NC
I've been around cars pretty much my whole life and ever since I've laid eyes on a Dodge Stealth I had to have one. I remember seeing my 1st one when I was 10yrs old going car shopping with my father. I've been hooked ever since.

Rough Beginnings...
I purchased this car in November of 2002 with 89,000 on the clock. But boy was it a basketcase. I have roughly 5 huge dents in it, stalled everytime I put it in reverse, leather seat had no leather left on them, radio didn't work etc etc. But I didn't care. I finally had my baby!

New Beginnings in 2003 when I got out of College my Build Began
First came the paint work. I loved the look of the Wheat Beige but it just needed something to make the car pop. So after much time and paint colors I went with Viper GTS blue stripes. Next came the body pieces. I've always disliked the appearance of the ES rear so I sourced a 1992 3000gt bumper, tail lights and then a 99 rear garnish. To finish it off I got a 92 spoiler and let the fun begin. Since I now had the room for a dual exhaust me and my father welded one together and finished it off with a 3sx downpipe and DTM SS tips.
Now my car was mine, everything I wanted it to be.