Bslade (Bob Slade)
Jump to navigation
Jump to search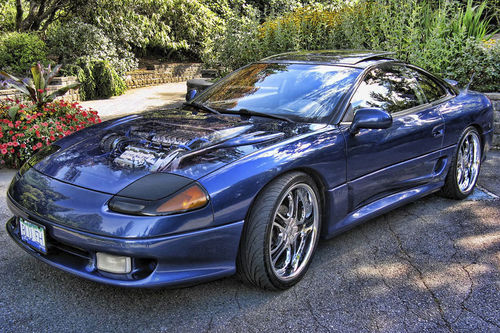 Ride of the Month Submission 3000GT/Stealth International December 2010
Suspension and Wheels:
Tein Coilovers
Diablo 20" Chrome wheels
275/30ZR20s Rear, 255/35ZR20s Front
Cross drilled rotors, SS brakelines, Axis Pads.
Electronics:
Innovative Performance Digital A/F (A-pillar)
AEM Boost Gauge (A-Pillar)
Apexi blue LED Turbo Timer
Apexi NEO A/F Mgt
Interior:
Reconditioned leather seats (Stock was cloth)See below.
Blue LED conversion on all switches and lights. See below.
Speedhut Indigo Blue gauge face overlays including centre gauges
3SI Floormats
Engine:
Polished intake plenum, intake pipes, valve covers, fuel rails, water housing, headers, downpipe, Stealth R/T Spark Plug cover, strut bar.
Custom Single Turbo
GT Racing Wastegate and BOV
Steel Forged Crank
360CC injectors
99 lifters
Chrome rings
Upgraded pistons
Front mount intercooler
Front mount Tranny cooler
Stainless steel intake piping and exhaust system (again custom made by GTR)
K&N FIPK mounted down by foglight.
Supra Fuel Pump (Hot Wired)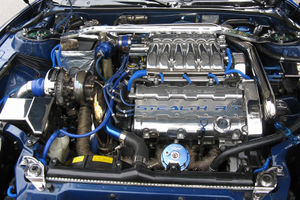 Audio:
Alpine MP3Head Unit
Audiobahn amp for sub
JBL 10" Sub in Homemade Box
Other:
FIAMM Horn Mod
Snake-Eyes Mod
My Website: Bob's Stealth

My story:
I purchased this car in 2002 from an elementary school teacher who really didn't know how to take care of it. I fell in love with it after the 1st test drive! It had 178,000km. It started out as a high-end used car for a daily driver. The first thing I had to do was get it painted. Paint was thrashed and sideskirt split... My cousin the ex-bodyshop mgr stripped it down sanded it, threw all the parts inside (bumpers and all) and took it to the paint shop for re-painting it stock/original orchid pearl blue. When it came out, I helped him put it all back together again. Thats when I learned how well built these bodies are! Took forever, but it was worth it. Paint still holds its own in car shows to this day.
I found the 3SI website shortly after, then the 'obsession' began..... I met other owners with beautiful cars, engine bays, etc. etc. and wanted a car like theirs. Started 'upgrading little things here and there.
Stereo Upgrade was next, even built my own sub box because being long distance daily driver I didn't want to lose my spare tire!
Then I learned how to polish Aluminum......then it snowballed... 'Hey! I can polish that too!' I kept saying. Local 3S owners started calling me Mr. Bling....
Show & Shine judges would walk by my car, look at the engine bay, realize how many hours it took to polish all those parts, and just shake their head.....then give me a trophy at the end of the day
Kept driving it 100Km to/from work every day, but eventually at 320,000km the head gasket finally gave up.
Our local guru/Stealth-God mechanic at GT Racing said 'Bob - if you wanna go Turbo, now is the time to do it'. Need a whole engine rebuild, so away we went! The Single-Turbo setup, including turbo, intake, headers, exhaust are all custom made (stainless steel) for this car. GT designed the whole thing. While it was in the shop (engineless) I found a set of Leather seats that a friend reconditioned and replaced all damage leather on. I installed them while it was in the garage being re-built.
The Turbo was made from 2 different turbos (bigger vanes, faster spooling ball bearing type). Last Dyno run est 410HP at the crank.(At 12 lbs boost).
The next winter I slowly converted the entire interior to Blue LED lighting. Patience is very necessary if anyone even thinks about being crazy enough to do this like I did....LOL
Odometer now reads 356,000Km....... and it's just like a brand new Stealth R/T FWD except better!
-Bob