Bridge (Bridget Dillon)
Jump to navigation
Jump to search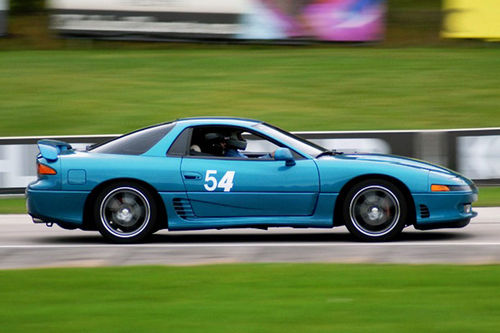 Ride of the Month Submission 3000GT/Stealth International October 2010
3SI Member #36268 Engine:
Stillen Downpipe
HKS SSQV BOV
Walbro 255 LPH Fuel Pump
eK2 Fuel Rail Loop
Mechanical Boost Controller
EGR Blockoff Plates
Vacuum Line Reduction
Intake off of Maddog's '91 RT/T
Canton CM Oil Filter
Setrab 625 Oil Cooler w/ SS lines
Koyo Radiator
South Bend Clutch
Candy Purple/Silver Explosion Front/Rear Valve Covers
Chrome Plenum
Chrome TB
Broomfield Racing Custom Spark Plug Cover
Wheels/Brakes:
SSR 18x8.5 GT3 Rims
Falken Azenis RT-615
Carbotech Slotted Rotors
Carbotech Brake Pads
S/S Brakelines
Suspension:
Tein S Tech Springs
Maximal Performance Control Arms
Electronics:
GReddy profec-b spec II
Stri DSD SLM Boost Gauge
Stri DSD SLM Fuel Pressure Gauge
Stri DSD SLM EGT Gauge
Stri DSD SLM Oil Pressure Gauge
Stri DSD SLM Water Temp Gauge
Exterior:
JDM Tail Lights
99 Rear Garnish
20% Window Tint
Interior:
Cianci 3 Gauge A-Pillar
White LED bulb conversion/replacement
Audio:
Kenwood KDC-X991
JL W3 Sub
Alpine SPX-13REF (front speaker set)
Alpine SPR-69C (rear speakers)

My Story:
I was the chick who took auto in high school but was not a tomboy by any means. I first fell in luv with the second gen 3000gt when I was fifteen. However, my dad being hard core union wouldn't allow any foreign cars for me. Since I was a newb, I didn't realize the stealth was the loop hole to this problem, but my bro two years later did. My dad was in for quite the surprise when he popped the hood on the '94 SOCH. I learned to drive stick on that car. So since 2002, I've seen it all mostly because of my bro, maddog, from numerous tranny rebuilds, a prototype front clip, his RWD stealth conversion, 60ks and 120ks, and various other maddog specials. Sorry some secrets stay in the family. As soon as I was out of college, I saved up for a VR4 of my own.

Her Story:
In Nov '07 I believe, DaveSlow came across her on craigslist. I was having coolant issues with my DD at the time and looking for a replacement. Dan and I checked her out in Jan in boofoo Indiana and realized she needed TLC for she was sitting for at least three years and didn't run. The guy said it was the stock fuel pump but that was a first for my brother. Bigpete was the only person we knew who had every came across this issue. We left that day with mixed feelings and all i could do was save up more money.
In March '08, we decided to go back and if we got her running, the guy would knock a grand off. So after three hours of sleep, (3s house party the night before), on a very rainy and cold sun. morning (our hands were bright pink) we put in pezcore's stock fuel pump, which was in daveslow's garage. (Thats how chicago 3s rolls) That seem to do the trick despite the bald tires, three year old gas , (which equals clogged injectors), and a dead battery (ran to autozone for that). It took three hours to wake her up but two months to bring her back to life and running healthy in time for NG'08. She hit 50k miles on the way home that day!
Since then, stealth316 has become my bible and I try to do as much as I can on my own (despite my tiny arm muscles). Now she's up to 75k in the last year and a half, been to NG twice, BRG, UMG, MOD, and many more mini-meets/races. Road America was October and I have never looked back. I'm addicted. Road coursing is my future. I was lucky enough to get her on autobahn cc before winter started. I can't wait for March and a new race season to start.

Winter Project:
pull trans, replace 5th gear snychro, SBC clutch, and some goodies to make her more track freindly. ;)