Boostaddict (Wayne Kasel)
Jump to navigation
Jump to search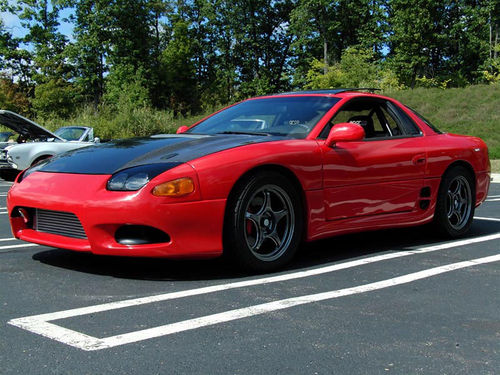 3SI Member #8863
Powertrain:
3.0L forged internal 6g72 (Wiseco, Crower, ARP)
Stock valve'd heads with Kiggly Racing beehive springs/titanium retainers, Web street grind cams, Fidanza cam gears
k2z intake manifold
75mm accufab TB
BorgWarner S400 turbo
k2z single turbo headers
4" fmic core, 3" IC piping
k2z badass oil pump gears
Ishihara-Johnson windage tray and crank scrapers
Setrab side-mount oil cooler
Tial 46mm wastegate
Tial 50mm bov
k2z dual walbro in-tank fuel pump assembly
RC 1200cc injectors, EK2 fuel rails, 1/2" teflon/stainless lines, Aeromotive FPR
k2z 3.5" -> 4" stainless steel exhaust with 4" Aeroturbine muffler
JVTR radiator
HK$ DLI/MSD wires/NGK coppers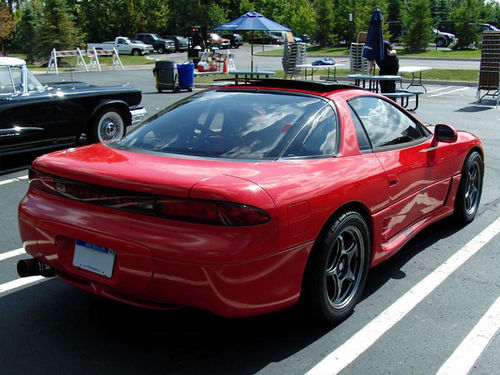 Drivetrain:
Carbonetic tripple disc carbon clutch
TRE/Northbendtech w5mg1 transmission
PST 2-pc carbon driveshaft
LSE/LIPP stainless steel front/mid transfer case housings
Suspension and Wheels:
K-Sport coilovers
rear aws delete
abs delete
adjustable upper rear control arms
FN01R-C hyperblack 17x10
Yokohama AVS ES100 tires 275-40r17
2g front brakes with Porterfield r4s brake pads f/r
Stainless/braided brake lines
Electronics:
AEM EMS
Autometer Oil Pressure, Oil Temp, H20 Temp, Fuel Pressure, Stewart Warner Boost and AEM WBO2 Gagues in dash/center console.
Blitz DSBC Spec R boost controller
KB BAP
Exterior:
corvette red exterior color
modified 1997 vr4 front bumper
1995 vr4 rear bumper and sideskirts
Deft racing carbon fiber hood, Aerocatch hood pins
spoiler delete
Interior:
Sparco Evo2 seats
Corbeau 5-pt harness
Momo steering wheel with quick release hub
misc removed/modified/tweaked interior panels/parts/pieces
8-pt NHRA/IHRA <150mph Thompson Racing Fabrication cage
current vehicle weight ~ 3250#

My Story:
I purchased my vr4 in early 2002 after looking for a good 3S project street/race car for a couple years. I owned and modified/raced dsm's in both drag racing and autocross in the 90's and I was looking for a new challenge. I was pretty much fully broken in on DIY import auto repair so tackling the new platform was an enjoyable process. I finally found and trailered my vr4 back to Michigan from Connecticut shortly before NG #1. I used this vehicle for trying out a variety of products/concepts. My turbo upgrade path started with big bolt-on tdo4 turbos and included the first use of "tdo5 evo16g turbos" on our platform. After pushing the evo16g setup to high 10's and ~660awhp I sold my tdo5 setup to i3igpete and purchased a TIG welder. I learned to weld and over the coming years I fabricated a variety of custom parts including a unique single turbo setup, which is currently in version 1.5 (hopefully soon to be version 2.0). Few (if any) parts on the vr4 have avoided being removed and improved/molested wherever possible. The vr4 was driven a couple thousand miles in 2008/2009 in its current single-turbo form while I tweaked the setup to my satisfaction. Last year it attended a couple car shows and actually made it back to the track for the first time in years. Everything is torn apart again right now for inspection and rebuild but should be together and running again in the coming months (with some upgrades of course). I already signed up for the NG this year so hopefully the vr4 will be back in race form in time (the only NG location I've missed so far was Memphis).
I have worked with a wide variety of vendors, shops, and industry experts over the years to try to find the optimal balance of parts for reliability and performance (I certainly do not claim to be 100% there yet but learning is half the fun). I am very proud to be one of the site admins over at 3STech and it is great to toss ideas around with many of the veteran 3S guys. I am good friends with Philip at SupercarEngineering and although I'm not employed by SCE I enjoy doing PR work for him on 3si. My focus has shifted towards family the past few years but I'll always find time to enjoy the vr4 and continue pushing things. Huge thanks to 3si, 3STech, SCE, Brett@IPS, Kiggly Racing, and mi3si members for all the support throughout the years!

-Wayne