Boost4VR4 (Kevin Pierce)
Jump to navigation
Jump to search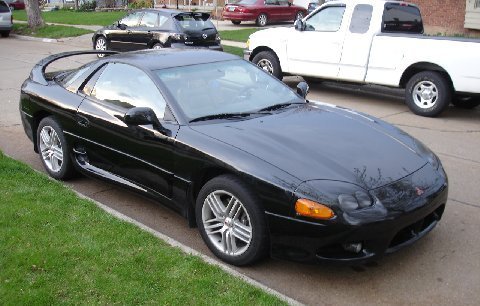 Ride of the Month Submission 3000GT/Stealth International May 2009
Modifications
Ebay downpipe with front pre-cat elimination and main cat elimination
Dejon Stainless steel turbo runners
Dejon Y-Pipe
HKS SSQV BOV running open loop
Blitz Dual Turbo Timer
Autometer Mechanical Boost Guage
Custom system integrated to Stock Infinity Head Unit
Coil pack cover
Spark Plug cover
Powdercoated front valve cover
New Plans:
Converting 9b to 15g turbos (hybrids)
560 CC Evo Injectors
Denso Supra Pump
Fuel pump Hotwire kit
Apexi S-AFC
Fuel and Engine Management system
Datalogger
A/F Gauge and Oil Pressure Gauge

My Story
Hey everyone! Thank you for taking the time to look at my wiki. I want to start off by saying that my name on the forums is Boost4VR4, I am Kevin Pierce in the flesh and blood. I started getting into the import car scene back in 2003-2004 area when I owned a DSM. At the time, my mother had a Dodge Stealth ES and previous that she had a Stealth RT. She was in W3SI and was at the 2004 Upper Midwest Gathering and I attended UMG with my friend and if the guys remember UMG 2004, we were in a white Honda Civic hatchback cruising along with all the 3/S owners. I found out first hand what the people of 3SI and each individual chapter are all about.
Since then, I have always wanted my own 3/S but I had my sights on a Twin Turbo model. Five domestic cars, and 4 years later, I found the one that I couldn't pass up. I would become the second owner of this car and it had somewhat high mileage, but it was meticulously maintained and I decided to plunge into the 3/S realm for the first time. When I went out to test drive it, I told the guy that I had never owned a standard transmission vehicle before, this would be my first manual transmission vehicle I have ever owned, with that dilemma he was faced with, he said, he would take me out for a ride in it to show me what it's capable of. I was blown away by the performance and feel of the car and I instantly told him I wanted it and I will be keeping in contact. So for the next 1 1/2 weeks, I frantically seeked out a loan and finally purchased it.
I finally got it and I had the guy drive it down and I would drive him up in my current car.
About a month after I had owned it, I took it to work and it was hit on the passenger side. I had purchased a bunch of parts to be put into the car while it went in the body shop for repairs. Thankfully I didn't have to pay for the damage since it wasn't my fault and my workplace's insurance covered the damages.
I have always taken really good care of her, and I continue to do so. I put in some appearance modifications and some other modifications into the car:
There are a lot more pictures of my car on Cardomain: