Blant (Kristian Kolev)
Jump to navigation
Jump to search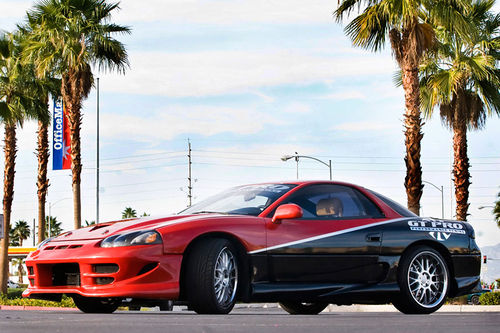 Ride of the Month Submission 3000GT/Stealth International November 2007
3SI Member #32782
Rock and Roll baby!
Body:
Pitroad M 99 Front Bumper
Pitroad M Rear Bumper
Pitroad M Sideskirts
Cianci Viper Hood
1999 Front End Headlight Conversion
Custom 2 tone Black/red paint job (like orange and black 3000gt from gtpro)
Suspension and Wheels:
5zigen 19x8.5 19x9.5 SC3000 sport engine wheels silver (polished lip)
Falken fk451 tires 245x35x19ft 275x30x19 rear
Tein S tech lowering springs
Electronics:
greddy/trust 60mm boost gauge
greddy/trust 60mm oil psi gauge
greddy/trust 60mm coolant temp gauge
greddy profec e-01 boost controller
greddy turbo timer
greddy turbo timer harness (no wire hacking)
Interior:
1998 tan leather 3000gt vr4 seats
greddy shift knob
Clarion MAX 675VD touch screen DVD/radio (double din)
Engine:
greddy type rs Blow of valve
greddy catch tank
greddy high pressure coolant cap
greddy no leak oil cap
greddy /trust gauge control unit
greddy oil block adapter
Gtpro ypipe
Gtpro polished intake manifold
Gtpro polished front and rear vavle covers
Gtpro polished downipe
Gtpro underhood vacuum reduction
optima red top battery
denso irridium ik27 spark plugs
GTO polished spark plug cover
EK2 polished sensor harness cover
Pitroad M/ultra spark plug wires
K&N FIPK intake system
Koyo Racing Aluminum Radiator
Stillen metal matrix brake pads
Stillen front and rear crossdrilled brake rotors
5zigen Japan prototype twin exit racing exhaust system
Audio:
Clarion srr 6986 6x9 rear speakers
Clarion srs1686 6.5 component front speakers
Clarion sw12x 12 subwoofers x2 in custom built enclosure
Clarion apx 1300 sub amp
Clarion apx 4240 4ch amp
Awards
Best of Show 3000GT (WCNC 07)
Best Audio System (Sound, WCNC 07)
Upgrades Awaiting Install:
alpha 8000k HID lighting system
actp 1 piece carbon shaft
15gs
greddy FMIC
rc 550cc injectors
walbro fuel pump
dxdfe clutch
afc neo
My story:
It started with my dads 92 stealth ES back in 99, I thought it was so badass and it was sexier than a viper (exaggeration? maybe). I was 11 and always wanted to ride with him, eventually in 02 he bought a 94 Stealth R/T and that was even more fun to drive. I was 14 so in 03 when I turned 15 he decided to teach me to drive. Shifting in gears and mashing the gas was more fun than playing Final Fantasy 7 (okay, maybe not, Cloud rules). When I turned 16 in 04 and got my license I decided to buy the Stealth from my dad, and for over 2 years I slightly modified it and gave it a nice paintjob, until I turned 18 and realized I needed more.
When December came around I decided to get a VR4, I thought they were as sexy as Jessica Alba on a good day, and that's saying a lot. I came onto 3si and was offered a deal from Denis at GTPro or Chauncy (he was thinking of selling his car to me). I took Denis up on his offer and he began modifying a beat up 91 VR4 into the wonderous beast you see before you. About 6 months ago in March he arrived with the VR4 finally done. I was so happy I left my birthday party and a tear came to my eye when I saw the beast. I couldn't believe the upgrade from an R/T when I sat in the drivers seat and tapped on the gas. I've had it since March of 2007, and I've gone to MOD 07 (was at the 5 Zigen booth) and WCNC 07, both rocked, met a lot of cool people. I'd like to thank Denis for working on my car and making it what it is today.
Soon to have the upgrades put on it for another 100 HP at least, going to dyno it and see how much it puts it :) It's already a few hundred pounds lighter from the body work alone. Thanks for looking! This car is my wife.
Thank you Jonathan Craig for lots of the pics :D

-Kristian