Bjarki (Fannar Magnusson)
Jump to navigation
Jump to search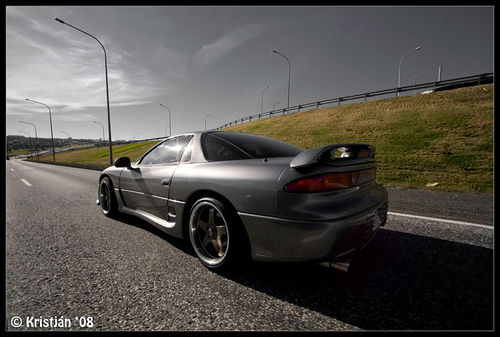 Body:
Custom paint
99 conversion front
2gen side skirts
2gen rear garnish
tinted glass
3sx single piece front lip
Suspension and Wheels:
intrax springs with stock struts
(coilovers to come soon)
Motegi Touge drift spec.
18x8.5" front
18x10" rear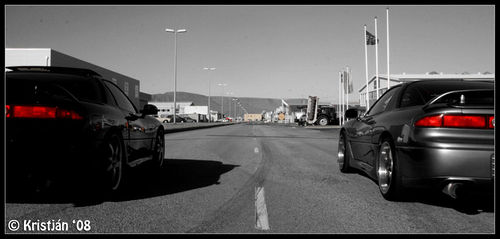 Electronics:
gauges
obx Boost gauge
obx air fuel gauge
blitz FATT dual timer
apexi safcII
Interior:
stock leater seats
custom shift boot
custom black leather inserts in door panels
Engine:
3"downpipe
3"straight pipes
cold air intake
manual boost controller
colder plugs at the moment
aftermarket clutch
aftermarket Y-pipe
BOV
255 walbro
Audio:
stock head unit
200w pioneer front speaker
200w jbl rear speakers
My Story:
My story with my vr4 started in febuary of 2005. at the time my car was insanely yellow with a huge rear wing. This was the car of my dreams (since me and paps had an SL since '01) at the time i didnt care about how ugly it looked , it was my very own vr4. After having it for two months i figured it was time for a paint job , so i tore the car apart , sanded it and painted it. Unfortunately me and the guys at my bodyshop did a horrible mistake with the blending of the paint and it never dried completely. I repainted it the second time, then the third, and the fourth, and lastly the fifth. it never came out right. At that point i decided that i had too much paint on there.. it looked okay at that point but i wasnt happy with it.
So, I completely stripped the car of all parts and glass, stripped all paint and bondo to bare metal , and sandblasted the shell of the car. It took two years to complete the car. and 6 complete resprays.(including the first five) thousands of hours, blood and sweat (no tears, it was all fun). Since it was assembled i had big plans for it. but life had other plans for me , so i have not gone through with all that i wanted to do to this car. Hopefully that will change soon.
I have really enjoyed my car since it was reborn and it is just halfway to where i want it to be, it already is a legend among my friends. They all treat my car as if it were their own, its like it is the pride of the group even though they all have badass cars , corvettes , m5's , srt 8's and such. It could be because i have put my heart and soul into this car and as friends do they look out for each other, knowing it would crush me if something were to happen to my vr4. I drive it rarely (just over 2000 miles since 05), im only on the first chapter of this vr4. it will never be sold.

-bjarki