Bherndon (Ben Herndon)
Jump to navigation
Jump to search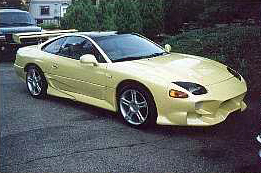 3SI Member #1002
My Story
Hello to all of my fellow 3SIers. I want to tell my story about my baby. I had wanted a Dodge Stealth since 1991 when my retired neighbor bought the first one that I had ever seen. In 1996, I was in my second year of college and began interning and working as an Industrial Engineer. So, I thought that since I was making this money, I should get what I wanted. I began my search for a first gen TT, due to the price. I had to have the Turbo since I was already used to a 1989 Firebird Formula 350.
Two different black 93's were sold right out from under my nose. I was so upset. A dealer in Dublin was searching for me and he called me after a week and told me that one just came in on a trade. He said that he had been the one to originally sell it off of the show room floor about a year and a half before that. It was a pearl yellow 94 Dodge Stealth TT. I was so excited because that was the one that I had wanted the most and had it hanging on my wall. I went home that weekend and picked my mother up and she went with me. I figured that I was in for a big let down since it was $25000, almost a whole $10000 more than I had figured on spending. When I got there and saw it, I fell in love. Chrome rims, all options, and only 8211 miles. My mother knew I wanted it and so she told me that I could have it since she knew that I could afford it. I signed the papers that day and took off in what would be the adventure machine of a lifetime.

Now, after having that car for 5 years this October, I am still in love. It went through 4 years of school stock except the stereo. I did the entire stereo myself. I sprayed sound deadening material through the whole car. Then, I added MB Quart separates up front (tweeters in the vents) and 6.5's in the rear. I mounted the Alpine 6d changer in the glove box and had an Alpine CVA1005 and Kenwood eq in the dash. I built a dual level amp rack in the rear with 2 Alpine V12's linked together. Finally I built a custom enclosure with 2 JL 12" subs in the hatch.
Then I graduated from the University of Cincinnati in 2000 and became a production supervisor at Delphi Automotive. So, I added a Cadillac Escalade to the family, but had no desire to sell the car. So, I kitted out the Escalade and then moved back to the car later. I pulled out the papers and lists that I had spent hours of planning on.
It is now in current stages of work. I added a Stillen intake, MSD wires and Denso Iridium plugs as well as a Denso fuel pump. Then, I added a Stillen 3" downpipe bypassed the front precat and main and gutted the rear precat. I customized the GReddy catback into a full 3" (previously choked to 2.5" at cat) and hung that. Then, I got the GT355 turbos and 660 GReddy injectors and an ARC2 with the Blitz DSBC with the power meter ID. DEFI gauges monitor my boost, egt and fuel pressure while an arm1 monitors air/fuel. Finally I got the exterior done with Veilside skirts, and a custom front and rear, keeping the RT taillights with PIAA bulbs, hidden 001x fog lights and side marker lights. I added a huge wing and 18" OZ Tubolares with Toyo Proxes T1S rubber. An ACT clutch and Mueller flywheel get the power out of the engine and to the pavement. I'm currently working on my carbonfiber hood and an enormous custom front mount intercooler. Future plans are heavy, but streetable with 19" DAZZ Matiz rims and a fully built motor with NOS and a water/alcohol injection kit. Thanks to my mother for the cosigning, my father for the patience and all who have helped it become what it is along the way.
BASZ Racing, Cincinnati, OH