Bboyalan (Alan Sison III)
Jump to navigation
Jump to search
3SI Member #32493
Below is the extensive list of modifications that I have completed on this street beast.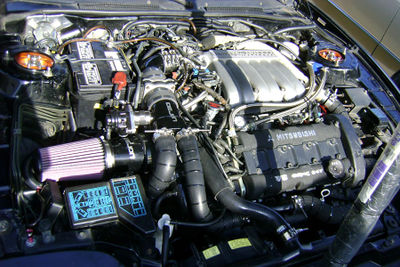 Engine:
TE04H-13C turbos
GM LT1 3" MAF
K&N 7" Cone Filter
Dejon pre-turbo intake hard pipes
Dejon NO-MAS intake pipe
Dejon 2-Piece Y-Pipe
1G DSM SMIC's
1G DSM "Crushed" BOV
3SX custom aluminum crank pulley
3SX phenolic plenum spacer
3SX SS oil return lines
3SX Krank Vents kit
DIY OCC w/ SS lines
FMOC w/ SS lines
IPS A/C Delete Kit
NGK BKR6ES copper spark plugs
GReddy 1.3bar radiator cap
Polyurethane motor mount inserts
Topline Engineering "BigTyla" GW kit
Supercar Engineering EGR block-off plates
Thermo-Tec heat wrapped rear turbo hotpipe
reinforced intercooler hoses
Duralast 170* thermostat
T-bolt clamp conversion
Ride of the Month Submission 3000GT/Stealth International November 2009
Electronics/Engine Management:
Prosport 52mm Water Temperature gauge
Prosport 52mm Boost gauge
Prosport 52mm Oil Pressure gauge
AEM UEGO WBO2 gauge
AEM Tru-Boost gauge
CHM Fuel Pressure gauge
A'PEXi turbo timer
A'PEXi S-AFC
A'PEXi S-ITC
Scanmaster 3 v1.7
Hand Held Halo v3.x
MAF Translator v2.01
Fuel:
Hot/Rewired Walbro GSS341 255lph fuel pump
DSM 450cc black top injectors
EK2 fuel rail loop
AEM AFPR
Brakes/Suspension:
K-Sport coilovers
Cross-drilled rotors
Hawk HPS brake pads
SS brake lines
[2]Nankang NS-1 245/45/17
[2]Kumho Ecsta ASX 245/45/17
Drivetrain/Transmission:
Maximal Performance transfer case bracket/brace
3SX solid shifter underhood bushings
3SX solid shifter base bushings
SS braided clutch line
Exhaust:
Custom OBX Super Dragger catback
Custom "Bob Melton" downpipe
Custom aluminized 3" resonator
Gutted pre-cats
Fluids:
Mobil1 10W-40 synthetic "high mileage" motor oil
Mobil1 75W-90 synthetic rear differential oil
Mobil1 M1-104 "extended performance" oil filter
Red Line 75W-90 synthetic Shockproof Heavy transfer case oil
Red Line MTL/MT-90 synthetic transmission oil
Red Line Water Wetter
Techron concentrate plus
Seafoam motor treatment
Exterior:
Deftracing 575 Carbon Fiber hood
Aerocatch hood latches
Custom front lip
Black powdercoated OEM 17x8.5 wheels
Yellow tinted OEM foglights
Yellow tinted OEM headlights
Yellow tinted "snake eyes" lenses
Shaved rear windshield wiper
All-around tinted windows
Mitsubishi tire valve stem caps
Personalized license plates
Interior:
Broadway wide rear-view mirror
52mm x2 Full A-Pillar
Audio:
Alpine CDA-9886 headunit
Alpine 4-ch amplifier
Miscellaneous:
removed/deleted front Active Aero
removed/deleted entire A/C system + lines
removed/deleted windshield washer fluid reservoir
removed spare junk in trunk
disabled blue wire "kill-buzz mod"
disabled clutch safety switch
disabled ECS
120K maintenance + continued maintenance/repairs
My Story:
Hello everyone! My name is ALan and this just happens to be my beloved second 3/S. I was pulled into this crazy obsession during my first year of college in Fall '06 when I purchased my first 1995 Mitsubishi 3000GT Base DOHC 5-SP. It wasn't long before I became more involved with SoCal3S and 3Si. It was a long, eventful year full of experiences and memories. Sadly, I ended up selling her to focus more on my studies and other priorities.
A year passed on and I had just sold a project DSM that I was able to enter the world of turbocharging with. One evening in Fall '08, I was browsing the local classifieds and stumbled upon a well-maintained and lightly modified 1991 Mitsubishi 3000GT VR-4 with 112,652 miles. After a few phone calls and meeting in person, I decided to take the risk and stepped up to owning a high-maintenance sports car that I was already familiar with. Boy was I in for one hell of a ride...
It has been 11 months since then and I cannot believe how much time, effort, pain, and money has been put into this machine in such a short amount of time. My mindset for this car has always been "Function Over Form" and so I have always been aiming for pure performance. I figured that I would rather have more "go" than "show" since these cars are already damn sexy as-is. I still cannot fathom the countless number of hours that I have spent researching and wrenching to become more knowledgeable to the 3/S platform.
Currently, I have her tuned for 17psi on pump-91 with fully rebuilt TE04H-13C turbos that I removed and reinstalled myself. In fact, all work and tuning has been done by yours truly. It is the primary reason that I chose to modify this car. I wanted that sense of accomplishment and pride, and I believe that I have found it in this rare beauty!
I hope to pass on everything that I have learned to help the community who helped me to begin with.
~ALan