Badass3000 (J Brown)
Jump to navigation
Jump to search
Body: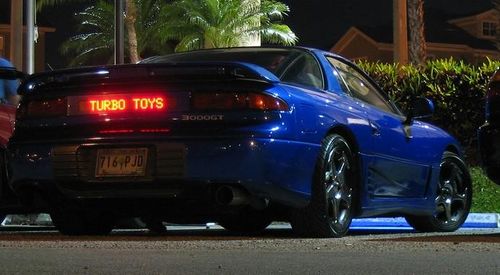 Suspension and Wheels: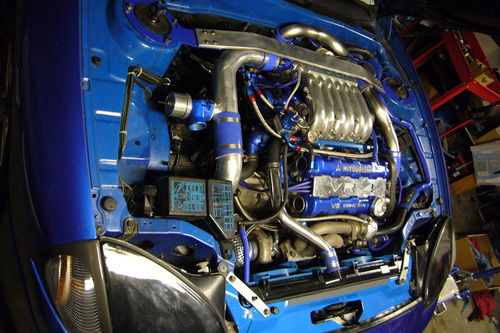 Drivetrain:
Electronics:
Interior:
Engine:
Deletes:
antenna
rear wiper
Cruze controll
fog lights
pop up lights
crashbar
MASS
Vac lines
wire tuck
windshield washer bottle
TB coolant lines
turbo coolant lines
EGR
FIAV
intake pipes
tow hooks
Evap canister
firewall solonoids
metal vac lines
battery tray
power steering oil cooler
heater
carrier bearings for driveshaft
cats and mufflers
timing belt covers
Fuel:
Intake:
Exhaust:
Spark:
Audio:
Sony Mobile ES CDX-C780, CD Headunit (in glovebox)
Sony Ten Disc changer
MB Quartz 3-way 6" in doors
MB Quartz 3-way 6x9" in rear
Kicker Comp 15" subwoofer
Stinger Wires

My Story:
I was passed down a Black 91' SL back in high school 96'. I did everything wrong to the SL. Super loud stereo, ugly yellow racing stripes, horrid Ebruni body kit, 16" rims ect. So when I found my VR4 in Sept of 02' I said I would leave the body completely stock and only work on power. So I began some fuel mods, boost mods and some electronics. Shortly thereafter I opened a thread titled "3s hybrids pics" by GTO4ever that changed my life 4ever.
This picture was just so damn beautiful and didn't look too outrageous. I just had to have, so I set up a 5 step plan to transform my car to GTO4ever's Photoshop picture. I have completed the first 3 steps, steps 4 (fenders) and 5 (19" rims) are the most expensive steps and are taking a while. Before I had seen his picture I was pretty deep into the power mods, everything except the turbos. Riding in a few highpower 3SI members cars had me hooked on power so I needed turbos. My choises at the time where direct bolt on small turbos, impossible to get TD05 adapter plates, $6k DR1000's, or to get a set of custom headers made for larger turbos. So I went for the bang/buck turbos; DR650's. When they arrived I opened a thread from Snakeskinner posting track results and prices of his new DR800's. Matt let me send the 650's back unopened to trade up to DR800's. The car has been tuned about 40% and is able to put down 350hp/tq at only 13psi. As soon as possible I will get the rest of the tune and hopefully get 600hp at ~30psi.
I want to thank everyone on 3SI that has helped me in the past and a special thanks to J-Ville VR-4.
Work Performed By
5th gear (Lowering springs)
J-Ville VR-4 (120k tuneup)
Carsmetics (Paint)
IPS (Powdercoating)
MYSELF (Everything else)