BILLVR4 (Bill Tricarico)
Jump to navigation
Jump to search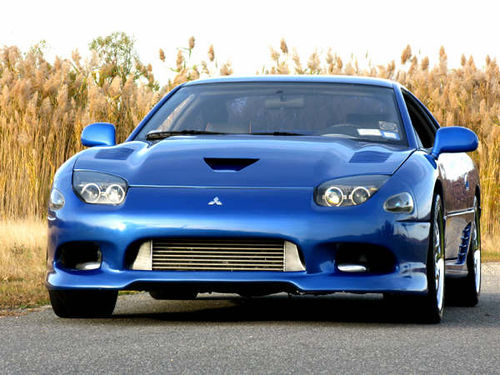 Ride of the Month Submission 3000GT/Stealth International December 2008
Audio:
Custom enclosure
Kenwood KD893 Stereo
JL Audio 500/5 Amplifier
JL Audio VR650 Front Speakers
JL Audio VR690 Rear Speakers
JL Audio 13 TW5 13-1/2" Sub
Body:
Cianci CR2 Victory Racing Hood
Robo 94' Glass Headlights
Version II Carbon Fiber Front Bumper
Driveline:
ATR Free Flowing Exhaust
ATR 3" Downpipe
RPS Stage III Clutch
Electronics:
AEM EMS System
AEM Serial Gauge
AEM Uego Wideband Gauge
Hids by Bestdubs 10000k
HKS EVC IV Boost Controller
HKS Twin Power Ignition
Kenne Belle Boost A Pump
Engine:
AAM Stage I Fuel Kit
Apexi Blow Off Valve
Denso 1000cc Injectors
DR900 Turbo Kit
Devils Own Alcohol Injection Kit
EGR Block Off Plates & Vacuum Hose Reduction
Greddy Front Mount Intercooler Kit
HKS Mega Flow Intake Kit
Hose Technique Silicone Hose Kit
Krank Vents
Magnecor KV85 Spark Plugs
NGK Spark Plugs
NOS
Odyssey Battery PC680
Pauter Rods
Polished crank
Polished covers and pipes
Redline Tranny Fluid
Ross Forged Pistons
Short Block By Merkel Racing Built By Pampena
Unorthodox Racing Cam Gears
Web Street Racing Cams
3SX Dual Pass Radiator
99' Lifters
Interior:
Brushed Aluminum Defroster Vents Door Speakers And Shifter Ring
Leatherseats.com Black Carper And Floor Mats
Leatherseats.com Seat Covers W/ Piping
Mobo Leathers Twin Turbo Door Panels
Suspension / Brakes / Wheels
Eibach Lower Springs
Enkei LX-M 18x8.5" wheels
Hawk Brake Pads
Power Stop Cryo Rotors
Toyo Proxes T1S 265/35/ZR18
Racing:
Dyno 580 AWHP
Auto Cross Nation Gathering 2002
Drag Racing

12.20 @ 122.59 On Pump 93 Octane at 18PSI
11.66 @ 126.33 on C16 VP Race Fuel at 26PSI
Road Coarse National Gathering 2002, 2004 & Ohio Gathering 2003
Awards:
East Coast Gathering Best In Show 2006, 2007 & 2008
National Gathering 2002 Quick 8 Qualifier & 2nd Place Overall 1ST Gen.
Nation Gathering 2004 Quick 8 Qualifier & 3rd Place Overall 1st Gen.
North East Gathering Best In Show 2006 & 2008.
October Quickening Best In Show 2000, 2001, 2002, 2003, 2005, 2006, 2007 & 2008.

My Story:
It began in 1990 at the Jacob Javits Auto Show when I first saw the VR4. I knew that someday I would own one. I was driving a 1984 Red Toyota Supra which was later stolen out of my driveway one evening in 1995. Now was my opportunity to go car shopping. While driving past a Mercedes Dealer I spotted a Fiji Blue VR4 with 10,000miles and the asking price was $20,500.00. The car was mine finally.

I kept it stock until May of 1999 when we went to our first ECG in Ocean City, MD. I won my first trophy for 2nd place best unmodified car. I met my friends from the 3SI group that weekend. That's the weekend it all started, the madness of modification. I saw what some of the guy's had in their cars and I had to have it as well.

I started modifying the car in June 1999 with Mike from Altered Atmosphere at his first shop. It started with an HKS boost controller, K&N filter and a blow off valve. Next trip I added turbos, ATR exhaust and a Greddy front mount intercooler. I continued on with more modifications with Mike until 2002. I met up with Ray Pampena in 2003 when he opened his shop locally in Ronkonkoma, NY. How convenient for me to have a body shop so close to my home. It was great. With Ray I built the motor that I have today. In 2003, Justin Lim started the 3SNY Chapter, which I now belong to. We have formed strong memberships as well as friendships. I want to say thank you to all that have helped me over the years.