AudibleSilence (Michael Brown)
Jump to navigation
Jump to search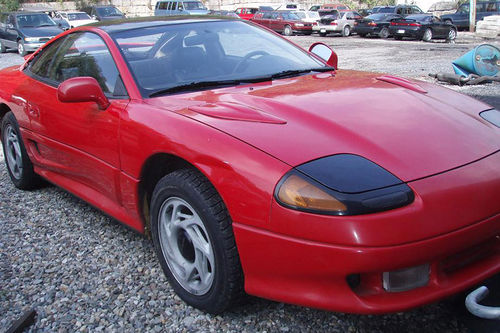 Ride of the Month Submission 3000GT/Stealth International December 2006
3SI Member #2280
Body: Stock
Suspension and Wheels: KYB Suspension up Front
Electronics: Hornet Keyless Entry and Remote Start
Interior: Original Stock Leather Interior
Engine: JDM Replacement Engine w/ 89k
Audio: Stolen :(

My story:
I had been looking for a beater for months when a fellow 3si Member (SexyBlueLady) pointed me in the direction of a listing on Craigslist. There she was, a red 92 RT with a second gen rear all for the whopping price of $500. The body had 195k on it, and the engine was a replacement JDM that had been put in just recently. The seller had all of the receipts to prove his claims and was totally upfront about "almost" everything.
The car did have a small issue with the transmission; and according to the owner it would drive for 15 mins and then stop. Even if the car turned out to be a lemon I could surely sell the rear bumper and such to recoup my losses; how could I pass on this? In addition to the tranny issues the car also needed a new hatch and some interior trim as the it had been broken into (hatch glass smashed) and had the stereo system stolen just before I purchased it. The hood and fenders didn't match exactly as the car had obviously had a small accident and touch paint was used (spray paint).
I went to go pay for and inspect the car. The owner started it right up and the only problem I noticed was some light smoking (seals) and some lifter tick. The only real issue to me was the fact that the car was about 2.5 hours from me in Connecticut. With the help of another 3si member, namely MarkieB124, I got the car to the shop. Mark had mentioned that the car didn't start when he went to pick it up. Apparently the last owner decided to remove his remote start and security system without reconnecting all of the cut wiring. Within a week of me owning the car it had new fenders, a new hood, a new rear hatch, and replacement interior panels for the destroyed ones, and a cool push button start to bypass the cut wires. *Side Note* I later found out that the key cylinder was bad in addition to the cut wires (oh the joy). The spray painted areas are a painful memory and the car is running like a champ.
Hans did a complete fluid replacement and both tranny fluid and engine oil were pitch black. Needless to say, after 1 solid hour of working on it the car no longer ticks and the tranny now works (still going to replace it and the TCU). Mark installed a keyless entry and remote start system from Hornet for me. Now I don't have to jump in a cold car with freezing leather seats :) So I paid $500 and put about $100 into it and I now have a head turning point A to B car that is STILL faster than 3/4's of the other cars where I live. My car is proof that you don't have to dump tons and tons of cash into a car to make it beautiful AND functional. I get comments/compliments all the time from folks that can't believe that I paid $500 for this diamond (though she was in the extreme rough). I've put over 500 miles on this car in the 3 weeks in which I've owned her and I can honestly say… I LOVE THIS LITTLE RED RT!!! ^_^

-Mike