Archangelcomp (Aaron Sarnacki)
Jump to navigation
Jump to search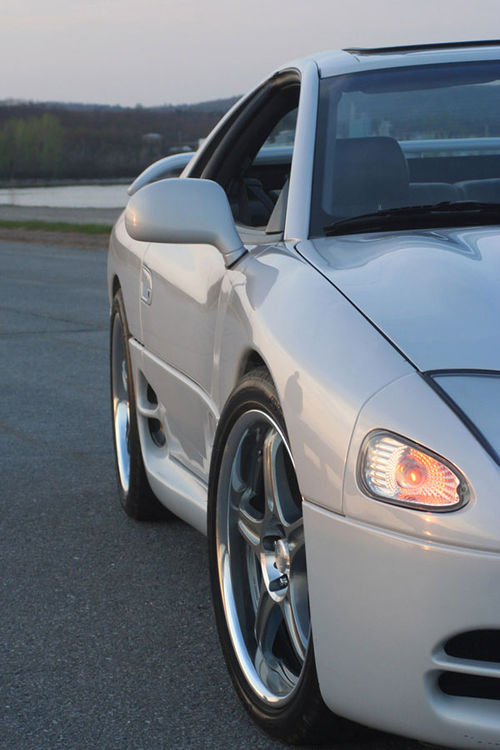 Ride of the Month Submission 3000GT/Stealth International June 2007
Body & Lighting
Clear Corner Lights
TechOne 6000k Low Beam HID's
"Useless Junk" delete (misc. heavy parts!)
Countless hours of hand washing and waxing ;)
Suspension & Wheels
SSR D5R's, 18x9.0
BFGoodrich GeForce T/A KDW2's, 265/35/18
KSport Coilovers, ~1.75" drop
Crossdrilled & Slotted zinc coated rotors
Hawk HPS Semi-Metallic Pads
Custom painted calipers, red w/ white lettering
3SX Adjustable Rear Control Arms
Electronics
Greddy Emanage Ultimate, stage 3 wiring
AEM Wideband O2 gauge & sensor
Shivers Hybrid Datalogger Cable
Palm M515 with "custom" charging & logging cable
Electronic boost and oil pressure gauges
Blitz DSBC Spec-R
Apexi turbo-timer
Escort Passport 8500
Red tach & speedo with Mitsubishi emblem and "VR-4"
Interior
Cianci A-Pillar triple gauge pod
Custom "Twin Turbo" floor mats
New leather shift & e-brake boot replacements
Engine
New TD04 15G's
Evo 560cc Injectors
EK2 rail loop, FP gauge and spark plug cover
AEM AFPR w/ rail adapter
K&N FIPK
Dejon Tool hard intake pipes
GT-PRO polished Y-Pipe
Snow Performance Methanol Injection
Greddy Type-S BOV
MSD Superconductor 8.5mm wires
EGR delete, emissions delete, vac reduction.
IPS Motorsports 3" Downpipe
Custom 3" dual exhaust to 2 Apexi-N1 cans
EGR Blockoff Plates
Hotwired Walbro 255LPH Fuel Pump
Chrome Powder coated Valve cover
Audio
Kenwood KVT-715DVD 7" wide touchscreen DVD player
JL Audio 4 channel amp
Audiobahn 800rms/1600pk
Kicker Solo-Baric L7, 15" 1000rms/2000pk
JL Audio door speakers, 6x9's and tweeters
In The Works (aka my basement)
1999 Front Bumper & splitters
1999 Headlights & Corners
DSM Sidemount Intercoolers (1 so far!)
Red Interior Lighting
My Story
About 10 years ago I found myself drooling over an incredibly sporty and low car parked next to the local dry cleaner's. I had no idea what it was, I just knew that it looked fast...and probably was. Applying my current knowledge, this car was a black 2nd gen 3000GT SL. I remember telling my mom that I would own that exact car someday. She didn't quite believe me.
Fast forwarding a few years, I'm on the market for a car. I jumped onto AutoTrader and found a newly listed black 2nd gen 3000GT SL about 100 miles from me in New Hampshire. I called them and gave a credit card number to let them know I was serious. The next day I drove down, cash in hand. I was sold on it about ten seconds into the test drive. I had a permanent grin for the rest of the day. It was my best impulse buy to date.
A few years after my first purchase, I happened to look at the local classifieds. As I was reading through, a certain acronym popped out at me. "VR-4". An incredibly low mileage '94 with pearl white paint and black leather was for sale only about an hour away. I immediately called and set up a test drive. The rest, as they say, is history.
After about a week, the mod bug bit me VERY hard. I had big plans, and was very good at talking myself into whatever it was that I wanted to buy. Slowly everything started being pieced together, I wanted a very respectable number at the wheels and a clean and complimenting exterior. This car is very far from completed...if it can ever be truly completed. Additional parts roll in every few weeks, forever furthering my project.
This car has taken more of my time, money, sanity and flesh than anything else on this earth. Sometimes I wonder...why? Why didn't I just pay for college? Then I will go for a drive, or spend a weekend with another 3/S nut...and the answer hits me. The pure satisfaction of being behind the wheel, the lifelong friends that I have gained along the way and the looks on bystander's faces. A person should not enjoy washing and buffing a car for over 18 hours, but I do. This car is truly my first love, and my true passion.
-archangelcomp