Alt0id (Steven Calderwood)
Jump to navigation
Jump to search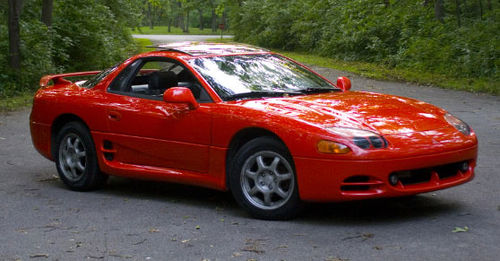 Ride of the Month Submission 3000GT/Stealth International September 2008
Brakes:
New OE style rotors
Hawk HPS Brake pads
Audio:
Kenwood Head unit.
Pioneer fronts/tweeters
Alpine Rears

My Story:
I purchased it in January 2008. I had wanted one for quite a long time, and only now had the opportunity to get one. After she was purchased we brought her home, pulled her up the driveway, and she wouldn't come out of park. Needless to say I was incredibly disappointed. A week later, the car was back in hand and has been a dream ever since.
Though not the "Dream" vr4, the car still has almost anything I can ask for, unparalleled styling along with enough "get-up-and-go" for daily driving. Though the car is stock, I have some plans for it, just to make it a little more fun. Possible going to put an intake on it, downpipe, etc. Just for some extra fun until I get my vr4. I plan on doing the manual conversion if the automatic fails again. The car has factory paint and it is in beautiful condition. I spent about a weekend detailing it after it got warmer, putting it through washing, polishing, paint correction (touch ups), etc and I finally am starting to get it as perfect as it will be.
Even though the car is stock, isn't the fastest, and never will be, I am incredibly happy I purchased it and hope to continue to have many more years of fun with it!
Car Info:
Mileage: 101,500
Year: 94
Model: SL
Transmission: Auto, unfortunately.
Paint: Original, No rust

-Steven - Alt0id