Alex3000GT (Alex Taylor)
Jump to navigation
Jump to search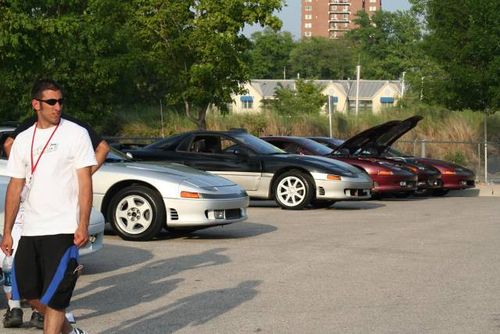 Ride of the Month Submission 3000GT/Stealth International October 2006
Body:
Stock 3000GT Body Kit
Ugly Two-Tone paint scheme from previous owner
Suspension and Wheels:
ADR DV8 17" hyper white
Stock suspension
R1 Concepts drilled/slotted rotors
Electronics:
Reverse lights hooked up to a switch
Interior:
Previous owner ruined my glove box mod
Engine:
120K tuneup at 137K (when bought)
New oil pump and valve job to come in December
Audio:
stock deck
XM satellite radio
Rockford Fosgate door speakers

My story:
I purchased my car on June 30, 2005. It was a major upgrade compared to the 95 rusted out Dodge Neon I was driving. The previous owner(owner #2) bought the car as a salvage from the original owner. Owner #2 rebuilt the car on a 'budget' and painted it an ugly black/silver with minimal clear coat. I bought the car from owner #2 and became the official third owner of my 3000GT. The engine had not been given a tune up in over 80,000 miles so I figured I was on borrowed time. At this point, I purchased a few hundred dollars worth of parts: timing belt, water pump, spark plug wires, coil pack, etc. Basically, before I owned this car I knew nothing about automobiles or automobile maintenence in general. That changed. In July of 2006 my automatic transmission's differential grenaded itself and I swapped the car over to manual transmission in my girlfriend's driveway.(see picture) I have daily driven my car over 30,000 miles in the past year and I've loved every minute of it.

-Alex3000GT