92RT-TT (Dan Graul)
Jump to navigation
Jump to search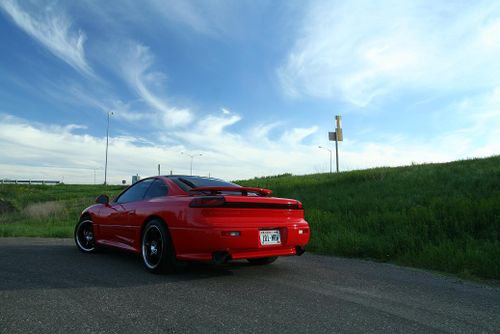 Ride of the Month Submission 3000GT/Stealth International June 2008
Body:
Suspension and Wheels:
Tein S-Tech Springs
ECS Struts
5Zigen FN01R-C 18x9.5
BfGoodrich G-Force TA KDW 265-35-18's
Electronics:
AEM Tru-Boost Gauge Controller
Autometer Boost Gauge
Autometer Oil Pressure Gauge
Greddy turbo timer
Apexi SAFC
Palmpilot with MMCD
Interior:
Cianci 3 Gauge A-Pillar
OEM Mitsubishi Driver Seat Cover
Engine Stuff:
EGR Delete
Vacuum Reduction
450cc DSM Injectors
K&N FIPK
DNP Y-pipe and Pre-turbo Intake Pipes
Borla Catback exhaust
Gutted precats
9b/13t Combo coming soon!
MSD Wires
NGK Plugs
Audio:
12 Disc Changer
Infinity Reference Speakers

My Story:
From when I was 12 years old I can remember my mom telling me how she wanted to buy a Twin Turbo Stealth. She never ended up buying one herself but it made me want to get one after I test drove a few with her. Even though she never got one she has definitely enjoyed driving mine once in awhile. About 9 months ago I got the chance to buy my current Stealth. It was a 60,000 mile 99% stock Stealth from a guy that lived in Idaho. I traded him my Jetta and some cash for it and over the past few months I've slowly done modifications to it to make it just how I want it. It's a work in progress but I'm happy with how it looks and performs right now.
When I started off I told myself that it was fast enough and I was going to only put a few BPU things on it. Well that only lasted a month or so and then I decided I needed more power. As it sits right now I do not have the 450 injectors, safc, or the 13t turbo in yet. I've been so busy with school and work that I was lucky just to get the new plugs and wires and a few other things in. I probably wouldn't have been able to do it without the help of my friend Flip (mn3s member) who came over and worked on the car with me. We managed to do an EGR delete, vacuum reduction, AEM Tru-boost install, Plugs, wires, DNP Pre-turbo pipes, and Cianci A-pillar in a few hours :D.
Some of the coolest experiences I've had with this car so far would have to be some of the different MN3s events like the spring cruise and UMG 2008. I've met a lot of great people through 3si.org and MN3s.org.

-92RT-TT