3kgtcruiser (Doug Olsen)
Jump to navigation
Jump to search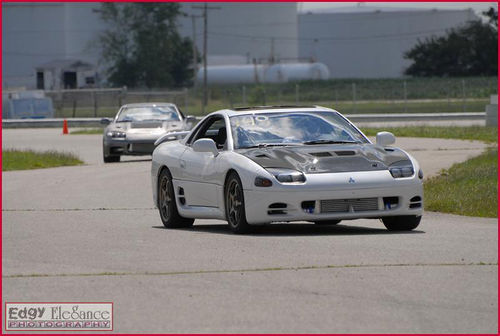 Ride of the Month Submission 3000GT/Stealth International August 2010
Body:
VIS Evo Hood
smoked turn signals and black headlights
99 rear center garnish
Suspension and Wheels:
K-sport coilovers
5Zigen fn01r-cs (Enkei NT03 race)
Potenza RE050 (Goodrich R1 race)
Rear stabi bar and strut bar
4+ years of alignment trial and error!
Carbotech slotted rotors/pads
Electronics:
SAFC 2
Greddy Profec B Spec 2
greddy pearl white 60mm gauges
relocated battery to trunk
Hotwired FP
Engine:
13g's
DR Stage 3 heads
Stillen DP/Borla Catback
Poly mounts
rebuilt engine 20K ago
FMIC
Powdercoated most engine bay parts myself
Custom broom handle hood prop!
Transmission
JDM trans and 5 speed rear diff. (8% final drive lower)
SBC stage 3 clutch
IPS lightweight flywheel
Extra Weight Loss
Cloth NA Seats
ABS removal
AWS delete
Removed: front active aero, rear washer, rear seat belts, evap canister, vacuum lines, stock amp, unused ecu's, etc...

My Story:
I fell into these cars about 10+ years ago when I tried to trade my Jeep in on a newer one and found a 93 3000GT SL (sandstone gray!) that I fell in love with and owned for a couple of years. While I had that I was dreaming of a pearl white VR4 with charcoal leather and eventually found one a couple hundred miles away. After begging/pleading with the dealer to let me test drive their showroom car I was hooked. Next thing I know I've owned that one (ROTM submission) for 8+ years and way too many more! I also worked on this car so much that I decided to start buying project cars and fixing/selling them to fund my racing. I've now owned a 91 VR4, 95 VR4, 93 SL, 94 VR4, 94 Stealth TT, 99 3000GT base, 97 3000GT base , and a galant vr4 and talon tsi.
Probably the biggest reason that I've kept this car so long is that I've got a LONG history with it. This car really got me through engineering classes (thermodynamics = turbos!) and indirectly got me into an automotive design position. I've done every single modification to this car myself or with the help of friends and or course beer. I can pretty much fix anything on this car and probably tell you how many bolts are needed to take off and what torque's required. I also started powder-coating and did all of the engine bay coating in my shop.
One thing that I've focused on with this car is BALANCE! I know too many people that have a car that can run a 10s 1/4 mile or win a car show, but come Monday they're back in the garage waiting for the next event. I really wanted a car that could be driven every day (getting 25+mpg with a/c and cruise), drive to the track, race competitively, drive back and get you back to work on Monday while still looking like a clean, unique car. Most of my mods were done with this in mind. I focused on dropping weight, adding power throughout the entire power band (13gs + DR stage 3 heads = instant power), and keeping most of the comforts associated with this car. I even race with the spare tire in place. I've finally got the car just about where I want it and handles better than I ever thought a 3s could. For the last 5-6 years I've been auto-crossing this car and even took 1st for the season in SCCA for the Ohio Valley region (Street Mod, street tire). Plus I beat Supercar at the NG this year :-)
Oh yeah, my wife also let me post a pic to help persuade your vote :)
-3kgtcruiser