3kgt2nv (Matthew Schaefer)
Jump to navigation
Jump to search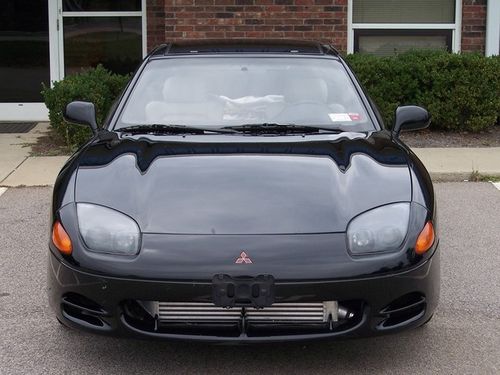 Ride of the Month Submission 3000GT/Stealth International February 2008
Body:
99 Front end conversion
new drak metallic graphite gray paint comming this summer
Suspension and Wheels:
moda R6 In 18 by 9.5
Jic coilovers waiting to be installed
ss Break lines
stillen Rotors and breaks
Electronics:
AEM Air Fuel Gauge
Auto Meter Boost Gauge
Apexi Neo AFC
Interior:
Leather Seats From Leatherseats.com
New Shift and E Break Boot from Leatherseats.com
New Carpet from Leatherseats.com
converted Tan interior to black and charcoal
Performed Toni's DIY led swap to blue
New Gauge Faces
Engine:
3.1L 3sx built block
3sx ross custom pistons
3sx stage 3 heads
3sx 3sx hardweld cams
3sx lightweight Pully
3sx 3sxecutioner Turbos
3sx fuel loop and fuel setup
3sx alum radiator
3sx 10 An oil lines
3sx custom MSD Wires
BIG TYLA Ground wires(not yet installed)
walbaro fuel pump & hotwire
550 injectors
turbo xs boost controller
Rfl style BOV
Samco radiator hose kit
Misc Polished and dress up parts
Exhaust
Full turbo back DNP SS exhaust FROM WHEN THEY WERE BASED OUT OF NY
random tech high flow cat
Precat eliminators on Exhaust

My Story:
I bought my car back in 2003 for 13k from a dealer in New York. I was the second owner of the car and while it was well cared for it needed some love. Due to a small oil leak from the rear heads I decided to replace the seals and drive it till it died. Unfortunitly thats not how it happened. Once i had the heads off I decided to have the heads ported, Well since I was doing the heads I might as Well pull the block and have that checked out also. So I got the only person in this are that at the time knew anything about 3000GT's to do the work. A dealership. So I had my full engine ripped out and was about to start working on it when my mother became very sick. The 10K I had planned on investing in my car I gave to her to help pay her medical bills. And my car sat with no engine.
Fast forward 4 years. My wife and I were about to start construction on our house addition and we were talking about what we were going to do with the VR-4 since it still sat without an engine and the only way it would move is if I pushed it. So after many nights I made the decision that I would Just scrap it and be done with it. So knowing what the car meant to me and what the story with it was my wife talked her father into fronting the money for repairing the car and getting it back on the road. So I called around and got some quotes for 6 or 7 grand to put it back together. It was then that I feel he really welcomed me to the family when he asked me one night how long it would take to pay him back for the money and I gave him a time table and he said without batting an eye. Build the car like you want and do it right the first time. He didn't even wince when I handed him the bill for over $21,000 for the rebuild that I wanted. Even during the time that I have been paying off the car I have still been doing other upgrades and I am even working on going over to TD05 turbos by the end of this year.
My Wife and her family really made me believe in karma and what goes around comes around. I had to give up my dream on my car for my family. And it was my new family that gave me that dream back.