2004formula (Brandon Wolberg)
Jump to navigation
Jump to search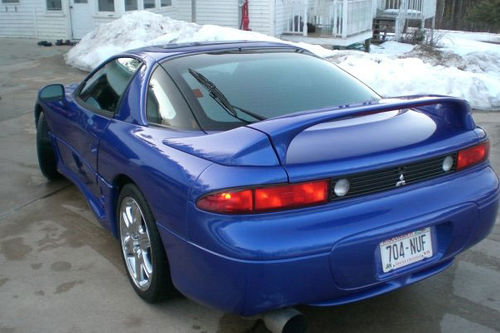 Ride of the Month Submission 3000GT/Stealth International August 2009
My Story
My story is long and boring, but feel free to read it.
Interestingly enough, my love for the 3/S platform began as a search for a reasonable winter beater. My first car was a Firebird Formula, and it became increasingly difficult to navigate the long Wisconsin winters with a rear wheel drive muscle car. One day, after a particularly large snowstorm, I couldn't make it out of my driveway. After a half hour and a full tank of gas spent, I became so frustrated that I jumped on Ebay and began looking for a respectable looking winter vehicle. I looked primarily at the DSM platform, even looked at a few Probes and Celicas. Nothing jumped out at me.
Then, I remembered a few years back I was taken for a ride in a "friend of a friend's" vehicle that looked pretty frickin' sweet. The 3000GT. I immediately fell in love with the looks of them and began researching them extensively. I have always had to have exactly what I want, and my criteria was strict. Nothing against our Stealth sister cars, but it had to be a 3000GT, had to have the projector lights, then I decided I needed the hoop spoiler, so that narrowed it down to 97's and up. And then I decided on either black or white. Since it was going to be a winter vehicle, nothing special, performance really wasn't an issue so I excluded the then-out-of-my-price-range Vr-4s. After a couple days of searching, I bid on and won a 97 black SOHC. I flew to Akron, OH, and drove it back, giddy as a school girl at all the people turning their heads. I found some chrome SL replicas from Wheels and Caps (great place for wheels), tinted the windows, and grinned every time someone asked me why my so called "winter beater" was a better looking car than their main vehicle.
So a couple years passed, and eventually I began driving the 3000GT more than my Firebird, even in the summer months. The Firebird ended up getting totaled, and the 3000GT became my only mode of transportation. As another year passed, I had replaced my Formula with a cheap Trans Am that ended up getting done up with a Collector's Edition paint and wheels scheme. It was a very nice car, but I still loved driving my 3000GT because no one in town really had seen them before and most couldn't even figure out what the make was. But another year passed and the cars had dropped enough in price for the high school scene to be able to afford the cheaper ones. I decided mine needed to stand out from the crowd. So the first thing I did was look for one with a little more performance. Black was still a must, but now I decided that it was going to get a combat spoiler and had to be a DOHC with a 5-speed. Also this time around a sunroof and leather interior was a must. After a few weeks of searching, I settled on a black '94 SL in Chicago.
I started looking at and picking out the pieces that would make my dream 3/S come together. I then realized something. If I sold both models, and saved up a bit more cash, I could get the ultimate top-end 3/S trim model; the coveted Vr-4. So I jumped the gun and found my Vr-4 about a month later on ebay. I won the auction, went down to Chicago to put a deposit on it and to make sure the dealer wasn't lying about anything. The two-tone paint job was pretty shitty, the transmission had been downgraded to the 5-speed, and also had a re-issued 5 digit VIN due to being a theft recovery vehicle. The stage 3 clutch also made stop and go driving a royal pain in the ass. But apparently God was watching out for me because the day before I took delivery of it, the dealer called me and asked if I wanted the vehicle detailed. Well, yes, of course I did. 15 minutes later he called again, furious because his sales employee had backed it out of the lot and gotten t-boned.
The car was totaled, I got my money back and found a much nicer one for even less. I included a picture of the beginning project. The first major project was the interior. The tan leather was nice, but I loved the darker gray interior my SL had. Eight hours later, the interiors were effectively swapped, right in time for a nice couple from northern WI to test drive and buy the SL. A week later, the base model was sold. Since I already had taken a loan out for the car, I considered the money from the other two "mod money." Since there was nothing wrong with the engine or tranny, and because it was more than quick enough in it's stock state for me, I focused solely on the aesthetics. Before selling the cars, I figured the '99 conversion out of my price range, but now it was the first thing on my list. After installing that, I decided the big fish mouth opening needed something. At about the same time the $600 FMIC was introduced, and was quickly ordered. A top secret hood, replica Vr-4 wheels, (again from the wonderful Wheels and Caps) used front lip from gabbergod, and a 99 rear garnish later, the car was ready for paint. Originally, I was going to go black, both because I love 3/Ss in black, and then the jambs and engine bay wouldn't need to be done to keep costs down. But after seeing pictures of gabber's Kandy Kobalt Blue job, and constant nagging by the girlfriend, blue seemed to be a better and better choice...I was, after all, going after something that would really stand out from the crowd. After a few trips to the paint shop, I decided on Admiral Blue, a fairly rare shade from the C4 generation Corvettes. My usual paint guy (my buddie's dad who does it out of his garage) did most of the work, while I picked up even more knowledge from him (this was his third repaint for me). My aesthetic dream came through, and now I have only to wait until the engine blows up before I settle on a bigger and badder setup. Hopefully that's many years down the road. :)
Link to my Cardomain with pictures of the car when i bought it and the paint process: http://www.cardomain.com/ride/3253105