1320VR4 (Matt Stefans)
Jump to navigation
Jump to search
1992 Mitsubishi 3000GT VR4
[
edit
]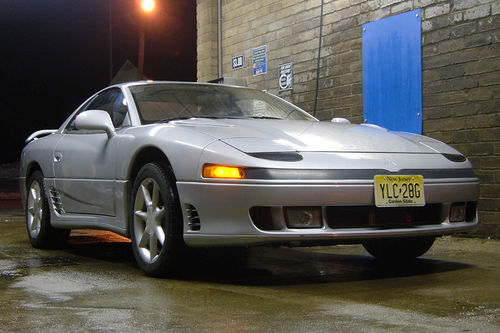 Cosmetic:
Tinted snake eyes
Silverstar headlights
Red tinted interior lights
Grey/Black catskinz style seat covers
Sunpro volt gauge
Sunpro narrowband air fuel (both are temporary and were free)
Custom airbrushed radio trim
LED replaced door lights
LED reverse lights
Ronal 17" wheels
Aluminum shift knob
Aluminum cluster trim
HDR lip
Sound:
Alpine head unit
Infinity speakers all around
Performance:
APS 50/50 bov
K&N intake
AEM Truboost
IPS Stainless Single Shot Exhaust
Maximal Test Pipe
My Story
Since building my Stealth ES starting in 06, when I was 16, I became more than glued to the platform. After paint and everything was finished and she was exactly how I wanted her to be I felt the need to TT her. Well 3si persistently told me that instead of that, buy a TT, so I did. In November I came across this 92 VR4 down in Bloomfield NJ for $5500, 111k on the clock. Being in much better shape than I had hoped it was a definite. The 120k being done was a benefit, only issue was a slight studder under load which was fixed simply with plugs. I also replaced the transfer case seals, outer tie rods, and other misc. problems. As of today she runs incredibly smoothly, next on the list of maintenance is to change the trans fluid. As far as mods go I haven't gotten too far just yet. I've gone through the basics as well worked on the 17 year worn interior. To go to the performance side of her, the APS bov and exhaust are perfect in sound and tone; the bov is audible but not rice and the exhaust has a nice deep growl to it. IPS makes awesome products. Jason at PMP helped me out a lot and gave me great deals on parts. I got a K&N intake from him as well as the BOV and most of my maintenance stuff. The test pipe is from Maximal, after getting one for the Stealth last year I was certain I'd be buying one for the VR, (Terry FTW). The gauge pod and AEM came from other members here on 3si for bargain prices. The other gauges are fillers until my wallet allows me to buy the real deal; my friend sold me both the volt and air/fuel gauges for $5. Interior wise, the leather seats were torn up like most, so I patched them up and put some quality ebay catskinz style seat covers over them, which for an EBay product, is excellent. I custom made and airbrushed my own radio trim piece out of some lexan I got from the hobby shop I work at. As far as sound, I'm waiting for my friend to build me a sub box to complete the sound system, the infinity speakers have great, great, great mid and high but almost no bass at all. The wheels came with the car when I bought it and although I hated them at first they grew on me; internet surfers say they look ugly, however in person I always get compliments on them. All I can say is in 6 months I've had great fun with this car.
As most do, I have big plans for the future and I'm looking forward to building her into something wicked. My hopes are to get her into the 11's while still maintaining drivability. One nice thing about turbo cars is I can cut the power by a push of a button on the boost controller. Near future I'm planning some black 5 spoke rims, perhaps saleens, a drop and an FMIC since my side mounts are beat up and the look of a front mount is unbeatable. Still a long way to go and since I don't plan on selling her any time soon, there's still a lot of excitement to be had.
1993 Dodge Stealth ES
[
edit
]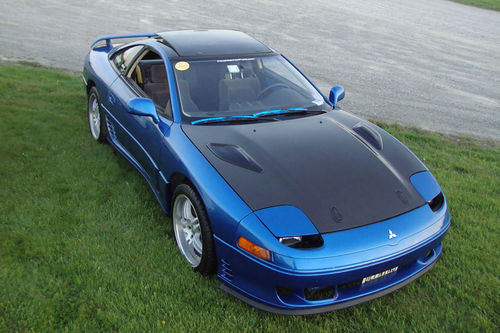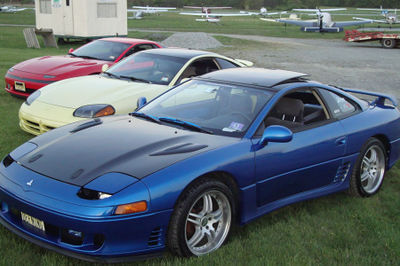 Ride of the Month Submission 3000GT/Stealth International November 2010
Ride of the Month Submission 3000GT/Stealth International June 2010
Ride of the Month Submission 3000GT/Stealth International September 2009
2008 Mod List
2010 Mod List
Cosmetic

1G 3000GT body conversion
Painted valve cover
Polished aluminum "3000GT" spark cover
Chrome intake pipe
Aftermarket shift knob
Snake eye mod
H3 fog lights
RUFF Racing 18x8.5 rims
99 Garnish
Sonic Blue paint
Carbon fiber cluster trim

1G 3000GT body conversion
R/T sail panels
Painted valve cover
Polished aluminum "3000GT" spark cover
Aluminum intake pipe
Snake eye mod
H3 fog lights
RUFF Racing 18x8.5 rims
Drifz 17x9 Venom rims
99 Garnish
Sonic Blue paint
Home Depot Racing Lip
LED license plate lights
Vanity plate "DEFNING"
1G style OEM hood + Aerocatch latches

Performance

Injen intake filter
Spark plug wires
Bosch +2 platinum plugs
Half shafted throttle body
3sx Downpipe
Maximal test pipe
Maximal solid motor mounts
Tanabe Concept G blue single shot (custom)
3sx stock size crank pulley
Ground wires
General Exclaim UHP tires

Injen intake filter
MSD Spark plug wires
NGK coppers
Half shafted throttle body
3sx Downpipe
Maximal test pipe
Maximal solid motor mounts
Maximal control arms
Tanabe Concept G blue single shot
3sx stock size crank pulley
Ground wires
General Exclaim UHP tires
Spec Stage II clutch
Eibach springs w/ new KYB struts
PMP 272/264 cams
Addco sway bars
Solid shifter bushings
Quaife LSD
Ultimate Performance intake wall

Sound

Pioneer speakers, front and rear
Pioneer head unit
Visonik sub + amp

Pioneer speakers, front and rear
Pioneer head unit
Visonik sub + amp

Brakes

New OEM remanufactured calipers
Drill slot front rotors, new rear rotors
Ceramic pads

OEM remanufactured calipers
Drill slot front rotors, new rear rotors
Ceramic pads

Interior

Shift Knob
CF gauge cluster trim
LED under dash
LED strips behind door handles
LED dome lights
LED under door (so you can see when you open the doors)
Custom radio surround
Suede door inserts
White courtesy door lights
My Story (November 2010):
First off, I must say NA owners unite! Even though last November, I purchased my awesome VR4, I still can't get away from tweaking my FWD ES. A few months ago I embarked on the adventure of camming her. Considering there is little known about throwing cams into an n/a, I've had incredible success. So far it's been near 3k miles since the install and absolutely no problems and very satisfying gains. Stock springs with 80k+ miles on them and no additional head work. The performance gain from the cams along with all my other bolt-ons was amazing. Besides the factor of daily drivability decreased largely, I have absolutely no complaints. This summer I'm hoping to creep up slowly on that 14.65 record for an n/a and see how much it really takes to get into the mid 14's. Going to need slicks and an LSD though as grip has disappeared, even with 9 inch wide tires. Also just put on some other additional bolt-ons recently including the strut tower brace, rims and some cosmetic points as well as the Sway bars andcontrol arms which will be on before voting finishes.
Other info about the car, bought it 4 years ago this coming spring. Started on the project when I was 16 and got her basically as an ES shell. The interior consisted of the dash, steering wheel, carpet and seats, Every exterior panel with the exception of the roof was damaged badly. Two owners prior: Father let his son have the car for college of which he and his drunken buddies went out and ran the car into several road signs and who knows what. He took the car back and left it on his front lawn. Last owner: Car was sold to a family friend of mine who lives about a block and a half away. He worked on it a little bit, got the r/t panels for it and some little parts but inevitably gave up on the project easily. Current owner: Fell in love with the car and restored it =D. Car sat basically rotting away for probably 4 years or maybe more perhaps before I got her. Was way more work and money than she'd ever be worth but I can say at this point I regret nothing. Learned a ridiculous amount of things with this car and lived though a huge amount of unforgettable memories that I could never put a price on. Being the first leg of my 3/S addiction, I have to say, for at least most 3siers that these cars are really a labor of love.

My Story (June 2010):
I post enough so that I'm sure a good lot of ya's know my story and my car. Most recent mods include the cams , the carbon fiber hood and a Quaife LSD. Got to the drag strip not too long ago and with the front diff along with the added power of the 272/264 PMP cams I managed to drop my quarter mile time and my average quarter mile time half a second from 15.5 to 15.0 flat @ 97mph. The next step for the track is going to have to be slicks since even without forced induction I'm at the point of no grip, even with 9 inch wide street meat. I'm going with 3SNJ to Pampena's to get the car dyno'd shortly, actualy when this is posted I'll probably have the results already. I'm also very excited that I finally found a first generation, first generation hood. Finding a CF hood with the blisters was a challenge however I got lucky on a craigslist find and got it new for $250. I also added the UP full box intake wall of which I actually noticed did lower the temp of the air inside the box a few degrees over the rest of the air surrounding the engine bay. I'm thinking of ways to draw more cold air to the intake filter although I have yet to come up with something that will work efficiently enough to be worth my time.
I have to say these cars are a never ending rollercoaster. Gotta say thank you to Terry for the hookup on the LSD transmission since my diff exploded and put two fat holes in my last tranny and even more so to Jason at pricematchedparts.com for a long list of hookups and great product support.
Cammed 3000GT / Stealth na - Idle 2 Video

My Story (2009):
Well in the last year not a whole lot has changed. The two drastic things she really needed was a drop and a lip and those two I had to get before anything else. Last fall I bought a set of KYB GR2's and a set of eibach lowering springs through my good pal Jason at pricematchedparts.com. As far as the lip goes, I really had my heart set on a Kaze lip but I couldn't justify spending $500 on something that has a good chance of being wrecked on a speed bump, curb, or unintelligent wood dwelling creature. I came across the garage door lip posted on our forums and gave that a shot. Using duck brand garage door bottom seal and all season double sided tape, the end result is what you see here. I've gotten many compliments on how good it looks, and many people asking where I bought one, when I say $15 at Walmart, they have a quite confused reaction, aha. Other than that I ditched the Ebay style plug wires that came with the car and bought some quality MSD wires, noticeable improvement.
Regular maintenance and upkeep has been a challenge over the last twelve months though. This passed winter we had a very bad ice storm that did a number on my hood due to falling ice and debris, it's in okay shape now, however it will never be quite perfect again. This coming winter I'm looking at getting a carbon hood for a small spring overhaul. Also this coming spring I'm contemplating another paint job and perhaps a carbon combat wing to complete a new aggressive look.
Last November I picked up my silver VR4 as a new project and the one thing I can say is although the TT has way more power, going from the Stealth to a completely stock car really made me further appreciate the work that went into this car. This ES started life in my hands as a vehicle you probably would best be finding at a junkyard. Through a few good friends, way too much money, and a wicked amount of elbow grease, somehow it became the car I have today. At least 80 percent was done in my driveway with a hundred and something piece craftsman tool set. I could go on for hours about each individual project we undertook and all the stupid and funny memories that go along with each. Granted my VR4 is a lot faster, and handles way better in the snow, there's no way in hell I could ever bring myself to sell this one.

My Story (2008):
When I was 16 my best friend Dan bought a 92 R/T, at the time I remember sitting in his living room as he was showing me the car he bought via his computer. I've had cars in my blood since birth and at the time I'd never heard of what a Stealth even was. After about four months he convinced me into buying a 3/S.
I found a highly abused Stealth ES in some kid's garage about a block and a half from my house. According to him some friends of the kid he bought it off of, went drunk driving and crashed it into some street signs. At the time It was missing most of the interior, had an engine, although wasn't promised to run, a bit of body damage, and was covered in corvette parts and bondo dust. After salvaging it and having it towed to my house, the project started almost instantly. It took about 3 hours to get the motor to run, however, running a bit of sea foam in it a few days later ended up snapping the tip off a new spark plug and it extensively damaged cylinder one and the head. We ended up replacing the motor with another one from a salvage yard which ended up having bad piston rings.
After motor number two, frustration started kicking in which almost ended the project. To surprise me, for my 17th birthday, my father bought me a low mileage engine with a 3 year guarantee. It was faster to do the motor swap this time since we've done it twice and excitement kept us going. Luckily it did the trick, It fired up without any issues and ran smoothly. With some other minor issues that were taken care of, the car was fully drive able, however defiantly not pretty in the least.
After doing a body conversion from stealth to 3000gt, the car ended up being white, red, blue and black. I ended up spray painting it primer black for a winter paint job so it wasn't a total eyesore. At least now that I can drive it to and from a job, I could put funds together and really turn it into a head turner.
For the next six months or so, I did anything I could to get funds for my car. Along the way I managed to get a bunch of bolt on mods while still managing to put away money on the side for paint, rims and tires. By the beginning of this summer everything started to come together perfectly. I shopped around and got some great deals, most I can credit to 3si members. By my 18th birthday, my car had a fresh coat of paint and some sexy Ruff Racing wheels
Now that everything is where I want it, the car has really become quite an attention getter. Everywhere I go people stare as I go by and I often get stopped by other tuners asking me about my car. It's really a great feeling that a year and a half of almost non stop work, and all the days my friends and I were in the snow or pouring rain trying to get the next stage of the process out of the way, was all totally worth it. Minus a few things, this entire thing was built in my driveway with hand tools. She may not be a VR4, but she's something I'll always be proud of.
2010 Gallery
[
edit
]
2009 Gallery
[
edit
]
2008 Gallery
[
edit
]