Yama (George Melita)
Jump to navigation
Jump to search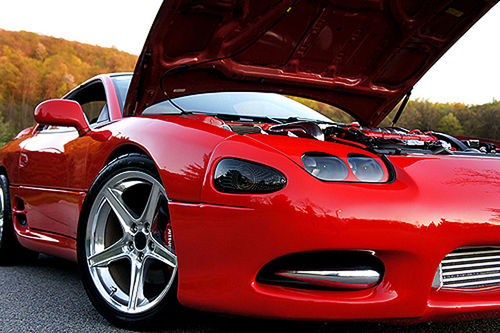 3SI Member #25602
Engine:
13G Turbos
Denso 450cc's
Walbro 255LPH w/ 3SX Hot Wire Kit
CX Racing Front Mount Intercooler Kit
Custom Cat Back Exhaust
Stillen Downpipe
Greddy Type-S BOV
3SX High-Capacity Single-Pass Radiator
SPEC Stage 2 Clutch
Intake
(Dyno Tuned by Pampena Motorsports)
Body:
Custom '97 front bumper (cut tooth)
3SX Engine Dressup Covers Kit
3SX Engine Dressup Custom Kit
3SX Chrome Reservoir Cap Covers
3SX Custom Chrome Oil Cap
3SX Plenum Harness Plug Cover
'99 Rear Center Garnish
8000K HID's
Suspension and Wheels:
Megan Racing Springs (-2.25"F/-2.5"R)
Kyb Struts
Saleen Wheels 18x9 Polished Aluminum
Federal Tires 245/40/18
Hawk Performance Pads and Rotors
Electronics:
HKS EVC-S Boost Controller
Apexi SAFC2 Air Flow Converter
Innovate DB-Series Wideband Gauge and Sensor
Audio:
Pioneer DEH-P7100BT Receiver
My Website:

My story:
Like many, my experience with the platform started at a very young age with lust. I saw these cars once in a blue moon, but the image of them stuck with me seemingly forever. At a slightly later year, though still in my younger age, I walked into a Mitsubishi showroom and saw a 1997 Mitsubishi 3000GT VR-4. Having looked around a bit, I had made up my mind that one day I would own this car. But for that day, simply scoring the promotional manual was enough of a victory.
During my first summer off in college I bought my first car, a 4-speed automatic Black 1995 3000GT N/A. Though it was not my dream car, I had at least entered the scene. At the time I was more than happy and had become familiar with both the community and platform. However, during this period my lust for a VR-4 grew even larger. Having met other 3/S's over the four or so years, it was obvious that the VR-4's were quite rare in comparison. It seemed every time I ran into one, it was not a VR-4. I eventually looked at the numbers and was amazed by the rarity, especially regarding the later years.
Fast forward roughly four years and I had just graduated college. That summer I had planned to save up some money and attempt to buy a VR-4, though I would remain somewhat picky regarding the model specifics and was ready to wait as long as I had to. Having browsed for the fun of it through out my four years of owning an N/A, I was quite familiar with the pricing and availability, especially concerning later models. However to my complete surprise, I found a Caracas Red '97 3000GT VR-4 in Philadelphia, PA. The price was literally right around what I was looking to spend and the owner needed cash fast. Having been one of the first to call, I had first dibs on viewing the car. There was only one dilemma, I needed to get rid of the '95 3000GT N/A. Long story short, I lucked out in selling the N/A Friday night and ended up buying the VR-4 Saturday morning. I don't even think I had time to shed a tear before the sound of twin turbos was making me smile.
Lastly and perhaps the best part of it all, this was the exact year, make and model that stole my heart as a kid. In fact, the '97 VR-4 promotional pamphlet I used to lust over now sits in my '97 VR-4. There is no ending more picture perfect than this one, nor is there a better feeling than looking outside and seeing your dream car.
Oh, and then the mod bug kicked in... :)
-Yama