PierCove (James Curtis)
Jump to navigation
Jump to search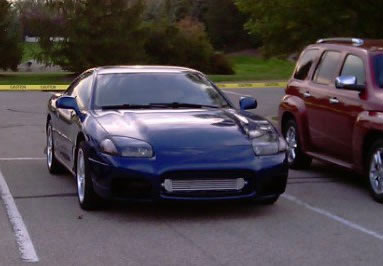 Driven: Daily
Body:
Suspension and Wheels:
Fittipaldi Force Aluminum Rims (18x8.5)
Kuhmo Tires
Cross-Drilled Front Rotors
Electronics:
Pro Comp Gauges (Boost, Battery)
Apexi SAFCII Fuel Controller
Apexi AVC-R Boost Controller
Interior:
New leather seats
Custom Dash Trim for SAFCII
Custom Radio Trim for AVC-R
Engine:
TD05 16G Turbos
Atm. Turbo Dump (Straight Out the Bottom of Turbos)
FMIC - All Hard Pipes
Full Stainless Exhaust (No Cat)
Top Gear Adjusted Cam Gears
'99 Lifters
Corvette MAFS
MAF Translator
Turbo SX Blow Off Value
Supra Fuel Pump
Fuel Rail Loop
720CC Injectors
Stage 3 Clutch
Unorthodox Underdrive Pulley
Audio:
JVC MP3/USB Head Unit
Infinity 4-Channel Amp
Infinity 6.5" Kappa Components
Infinity 12" Reference Subwoofer
My Game Site:

My Website:

My Blog:

My story:
I bought my first Dodge Stealth R/T TT in 2002 (the red one). I upgraded many things on it, including the 99' 3000GT front-end conversion, but alas in 2003 I threw the timing belt at Hot Import Nights in Chicago. The belt got thrown because the lightened crankshaft pulley wobbled off. So, needless to say, I'll never install one of those again unless they have a harmonic balancer.
So, fast forward 5 1/2 years to October 2008. I picked up this beauty in Michigan, and it has the same wheels that I had on my first Stealth, so that was kinda cool. The biggest thing that I liked here was that this Stealth had already been upgraded to TD05 16G Turbos with some of the supporting hardware. It's definitely a better starting point (for me) than stock. So, maybe some day I'll take her down to the track for some fun! :)

-piercove