NoJinxz (Jesse Fowler)
Jump to navigation
Jump to search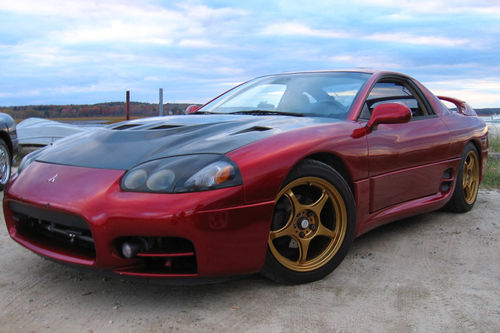 Body:
House of Kolor Kandy Apple Red done by Pape Chevrolet of South Portland, Maine
Carbon Fiber VIS Evo Hood
Shaved Door Handles and Antenna
Suspension and Wheels:
Tein Flex Coil Overs w/EDFC
3SX Front and Rear Sway Bars
5-Zigen FN01-RC Wheels w/ Custom Paint
BFG KDW Tires
Cross drilled Rotors
Electronics:
Ripp Black Box
Ripp Brat Box
Boost Gauge
Tein EDFC
Viper Alarm
Passport 8500
Passport Lazer Shifter
Front and Rear Cameras
Interior:
2 Seater Conversion
Current Project - Switching to Black interior with new seats, possible roll cage & harness'.
Engine:
GTPro Design Pistons made by CP Pistons - .080 over
RIPP Mods Stage 1/1.5 S/C kit
Vortech V5 - G trim
RIPP Supplemental Injection Kit
RIPP Boost Controler
RIPP Blow off Valve
Walboro 255 Fuel Pump
Rising Rate Fuel Pressure Regulator
3SX Long Tube Headers
Race Pipe (stupid cats)
Magnacore Wires
Kevlar Timing Belt
Engine Rebuild done by RIPP Mods
Transmission:
GTPro Act Clutch
Quaife LSD
Cryogenic Treatment on Whole Tranny
Double Synchro 1st Gear for Autocross
Tranny Rebuild by Team Rip Engineering (not related to RIPP Mods)
Audio:
Pioneer 7500 DVD Head Unit
MBQuart Front Speakers
Boston Acoustic Pro Speakers - Rear
2 Alpine Type-X 10" Subs in Ported box
Audison LRx 4x300 amp for Speakers
Audison LRx 2x400 amp for Subs
Thanks To: God for the opportunity, My Dad for being a car guy and understanding, Bayside Tackle for funding, The Guys at Pape Chevrolet, Everyone at RIPP Mods, Brian and Denis at GTPro, Team Rip Engineering, 3SI.org!!!
My Website:

My story: Where to begin and how not to ramble? I bought this car in 2003, not to long after I fell asleep at the wheel of my 92 SL and hit 8 trees. I also owned a 91 Kandy Tangerine VR4 at the time, but it was a 10 foot car, and a piece of crap. I was about to go on a long distance trip when my Dad came across this 99, perfectly stock and with only 47k on it. We bartered with the dealer, and bought we drove 200 miles and I bought it that very night. It was a couple years before I became bitten with the mod bug, but I was eventually bitten pretty hard. Luckily I owned a store that could support my habit. I started out small, hood here, rims there... and of course a stereo. Well, RIPP Mods posted that they wanted to do a supercharger for our car, and I was able to get my way into the prototypers list. When my car finally went down for the charger, it had already been painted. Paint was thanks to two people hitting me, and getting insurance money from them. When the charger was put on, it instantly blew a piece of the piston, forcing me to do a rebuild. My moto is, if you're going to do something, do it right, so I spent my last dollar on that rebuild. I called up Brian and Denis over at GTPro (who are awesome guys by the way) and they set me right up. Ripp sent the engine out to get redone, and put in the new pistons from CPPistons (designed by GTPro). Once I got the car out of RIPP Mods, I made it home, and within 20 hours, I blew up the transmission when showing off. So off the tranny went to Team Rip Engineering to be rebuilt. Again, if you're going to do it, do it right. I put in a LSD, double synchro in first, and cryogenic treatment of the whole tranny to ensure that it would be bulletproof for the amount of power I wanted to put down. This teamed up with the stage 2/2.5 clutch from GTPro that was already put in. This is about as far as the car has come, with minor modifications here and there. I'm currently trying to switch over the interior to black, and hoping to get enough money together to put in a roll cage. For a picture timeline, please visit my cardomain at www.cardomain.com/id/one_slo_car
Thank you, -Jesse
-NoJinxz