Milkshakes00 (Steve)
Jump to navigation
Jump to search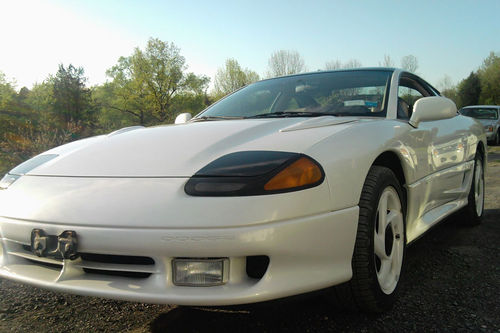 Ride of the Month Submission 3000GT/Stealth International June 2009
Body:

My story:
My name is Steve, I live in Catskill, NY and as far back as I remember, about 1996, I was six years old and saw my first Mitsubishi 3000GT. It was my brother's, a perfect condition Spyder. It was gorgeous. He drove it like a demon out of hell. Eventually, though, he couldn't upkeep the costs, being that he was 19. And it was a sports car, and he worked at a measly fast food restaurant, he got the car in flawless condition, and left it in flawless condition. Fast forward 13 years. I JUST turned 19, on April 28th, three days after I talk to someone that drives in a mint 93 Corvette, and spark a conversation on cars. I tell him the car of my dreams, and he tells me he's selling a Twin Turbo 92 Stealth.
Needless to say, I jump on it like a cat on a mouse. I go to see it, he's local, never had seen the car before, because it's basically been garaged for the past nine years, putting a measly 6,000 miles on it. He rolls it out of the garage, and it shined like the day it came out of the factory. We take it for a drive. I get out of the car, ask how much he wants, he says $3,500. I give him the cash and take the car home two days later.
The car has a total of 129,000 miles on it now. It's completely stock. Original paint, original pretty much everything. No interior/exterior modifications. Babied, so flawlessly that the stock rear antenna even works. I now have it, garage it daily, clean it weekly(I'm OCD :D) and give it only the best my money can buy.
It's been a dream to finally get this car, nothing but nostalgia. It's like winning the lottery, a hundred times, and I'm not refering to the pots less than $10! I hope to bring it up to Poughkeepsie at some point, or goto the NEG and hang out with all the 3/S's I've seen through my years and dreamed of owning.
And now, I'm part of the club. ;D
(P.S.: More pictures coming soon. As in, when I get out of work.)