BlkTT (Mark Huang)
Jump to navigation
Jump to search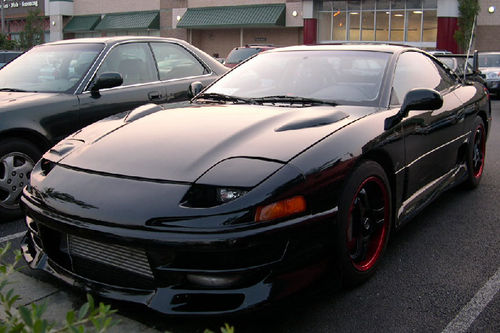 3SI Member #2142
Performance: TEC 17G Turbo, FMIC, RC 660cc Injectors, GReddy Type-S BOV, Apexi SAFC-II, Blitz SBC i-D II, Blitz DTT-DC, NGK Spark Plug Wires, NGK Iridium Spark Plugs, Hot-wired Supra Fuel Pump, DNP 3/S Turbo Intakes, DNP PreCat Eliminators, 3SX DP, Borla Catback, Test Pipe, Polished Intake, Polished Valve Cover, Polished Fuel Rails, 3rd Gen Lifters, SB DXD,UR Flywheel,MAFT/LS6 MAS/K&N Intake, IPO SX FPR Kit, IPO 3/S Bolt in HI FLOW Fuel kit, MSD DIS-4, PST CFDS.
Interior: GReddy EGT gauge with Peak Hold, Dual Gauge Pod with Boost and Air/Fuel Gauge, Momo Daytona Steering Wheel, GReddy Weighted Shift Knob, 3s (Gonzo Performance) Shifter, Nakamichi MB 75, Alpine Type-X, Type-R speakers, custom sub box w/ 2 10" Sony XS-L101.
Exterior: Kaze Front Bumper, Veilside Side Skirts, ADVAN Super Advan Racing SA3R Wheels, Advan TNR/ 045 Tires, Cross Drilled Rotors, Carbon Fiber Brake Pads, 99 VR-4 Spoiler, Bozz Speed Bonnet Scoops.
Suspension: Cusco Rear Strut Bar, 3SX Adjustable Rear Control Arms, JIC FLT-A2

My Story
I got my stock Stealth RT/TT back in Dec 2002 with 45k miles. Believe it or not I bought my car from a MD state trooper. Living in northeast my Stealth RT/TT is the best all around sports car I've owned. I started modding shortly after I found 3si.org.
I truly enjoy my car and the people I meet at gatherings. Here are the trophies my car got so far:
Speed Factor Gathering 04

Best Performance Modified - 1st Place
Best Exterior Modified -2nd Place
Best Interior Modified -3rd Place
Best in Show

3SI NG04:

Best 1st Gen - Modded
1st Place - Best in Show